Men In Black 2 (UK)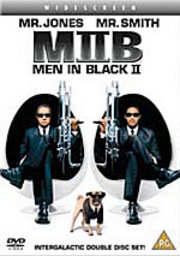 Same planet. New scum
Certificate: PG
Running Time: 84 mins
Retail Price: £24.99
Release Date:
Content Type: Movie
Synopsis:
Will Smith and Tommy Lee Jones return as MIB operatives Jay and Kay, with Kay now working for the U.S. postal service and Jay sent to bring him back, "deneuralise" his memories and save the world from another deadly outer space threat. When alien Serleena lands on earth in search of the Light of Zartha, she takes on the vampish identity of a Victoria`s Secrets model (Lara Flynn Boyle). It soon turns out that Kay is the only MIB agent with enough knowledge of the interloper to stop her/it from destroying the planet! This sequel boasts wonderful visual effects, set design, make-up (courtesy of Oscar-winner Rick Baker), and deadpan direction from Barry Sonnenfeld.
Special Features:
Disc One:
Commentary by Barry Sonnenfeld with optional Telestrator Diagrams
Alien broadcast
`Alien Escape` PS2 game promo
`The Chubb Chubbs` short film
Men in Black training video
Theatrical trailers

Disc Two:
Alternative ending
Blooper reel
6 production featurettes
7 creature featurettes
Barry Sonnenfeld`s Intergalactic Guide To Comedy
Will Smith `Black Suits Comin (Nod Ya Head)` music video
5 multi-angle scene deconstructions
`Theatrical One-Sheets` photo gallery
Filmographies
DVD-ROM features: MIIB Crossfire: Intergalactic Game Demo, screen saver, concept designs, MIIB script weblinks.

Video Tracks:
Widescreen Anamorphic 1.85:1

Audio Tracks:
Dolby Digital 5.1 English

Subtitle Tracks:
English
CC: English
Dutch

Directed By:
Barry Sonnenfeld

Written By:
Barry Fanaro
Robert Gordon
Lowell Cunningham

Starring:
Johnny Knoxville
Lara Flynn Boyle
Rosario Dawson
Will Smith
Tommy Lee Jones

Casting By:
Ronna Kress

Soundtrack By:
Freddie Perren
Will Smith
Danny Elfman

Director of Photography:
Greg Gardiner

Editor:
Steven Weisberg
Richard Pearson

Costume Designer:
Mary E. Vogt

Production Designer:
Bo Welch

Producer:
Graham Place
Walter F. Parkes
Laurie MacDonald
Stephanie Kemp
Marc Haimes

Executive Producer:
Steven Spielberg

Distributor:
Columbia / Tristar