Horror flick Lake Placid 3 snaps onto DVD in October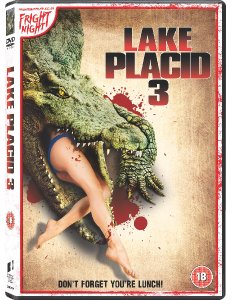 Don't Forget You're Lunch!
LAKE PLACID
3
Return to the Terrifying Depths on DVD on
October 25
London
, UK
. 01/09/10
-
The monster crocodiles return in a frightening new installment of the successful horror franchise when
Lake Placid
3
debuts on DVD on October 25, courtesy of Sony Pictures Home Entertainment.
Colin Ferguson (TV's "Eureka"), Yancy Butler (
Kick-Ass
), Kacey Barnfield (
Resident Evil: Afterlife
), and Michael Ironside (
Terminator Salvation
) star in the latest incarnation of the campy, blood-thirsty horror series.
Fans will eat up the steamy, sexy and gory
Lake Placid
3
when it arrives on DVD for RRP £19.99.
SYNOPSIS
Get ready for a living, feeding nightmare when a swarm of gigantic crocodiles terrorizes a secluded country lake. When local wildlife is brutally mauled and campers are reduced to carcasses, biologist Nathan Bickerman (Colin Ferguson) knows a voracious predator is on the loose. So does a feisty female hunting guide (Yancy Butler) out for her next trophy. As the body count rises, the local sheriff tries to keep things quiet and keep the tourists coming. But when the horrifying, hulking truth emerges, can anyone stop these cold blooded killers before they claim their next victim?
Lake Placid
3
is pulse pounding, adrenaline pumping, pure horror film fun.
Lake Placid
3
has a running time of 92 minutes and is rated 18.
Visit Sony Pictures Home Entertainment on the Web at
www.sonypictures.com
PRODUCT INFORMATION
TITLE

Lake Placid
3
Release Date
25 October, 2010
Format
Retail DVD
,
Rental DVD
RRP
£19.99
Certificate
18
Genre
Horror
Running Time
92 minutes (approx)