Rooftop Film Club collaborates with The Roof Gardens this summer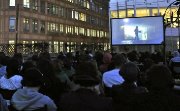 The Roof Gardens is excited to announce its collaboration with the Rooftop Film Club in partnership with American Express®; an outdoor film experience screening classic, cult and recent film releases at rooftop venues across London.
Offering guests a cinematic experience like no other; The Roof Gardens will screen a selection of the best of British classic movies 100ft above Kensington High Street tucked away in the tranquil setting of 1.5 acres of themed gardens.
The first ever open-air cinema evening at The Roof Gardens will begin on
Monday 30th April
showing the classic
'Lock, Stock and Two Smoking Barrels'
film. Future dates and films include:
Monday 7th May
-
'Notting Hill'
Sunday 13th May
-
'Educating Rita'
Monday 4th June
-
'The Queen'
Sunday 10th June
-
'Wimbledon'
Tickets are priced at £25 per person and include a snack of traditional fish and chips, or burger or hot dog, all freshly prepared and grilled on the outdoor coal fired barbecue. Seating, blankets, director's chairs and headphones are also included. The Roof Gardens will also be offering guests the opportunity to purchase popcorn, old-fashioned treats and drinks providing the perfect accompaniment to their cinematic experience.
For tickets and further information please visit
www.rooftopfilmclub.com
For more information on The Roof Gardens themselves please visit
www.roofgardens.virgin.com
Notes to Editors:
The Roof Gardens is part of Virgin Limited Edition - Sir Richard Branson's private collection of award-winning luxury retreats
Rooftop Film Club is the exciting outdoor film experience showing classic, cult and recent film releases on established roof top venues.
Last summer Rooftop hosted over 100 sold out screenings, making them one of the UK's leading outdoor cinema companies.
Following this they took up residence in the underground layers of the legendary Camden Roundhouse for a month of sold out screenings with the Underground Film Club.
When not screening in the night time skies or in subterranean spaces, they can be found in unusual and unique venues around London and the UK with their sister company Experience Cinema.
The Roof Gardens
6th Floor, The Roof Gardens, 99 Kensington High Street, W8 5SA

Virgin Limited Edition
is a collection of award-winning unique retreats chosen for their stunning locations, magnificent surroundings and offering a sense of fun, style, luxury and exceptional personal service. The group includes Necker Island in the Caribbean's British Virgin Islands, Ulusaba Private Game Reserve in South Africa, The Roof Gardens and Babylon Restaurant in London; Kasbah Tamadot in Morocco, The Lodge in Verbier, Necker Belle, a 105 foot luxury catamaran and Necker Nymph, a three man aero submarine.
For further information please visit
www.virginlimitededition.com