Yarrr! Aardman's So You Want to Be a Pirate! out this month on DVD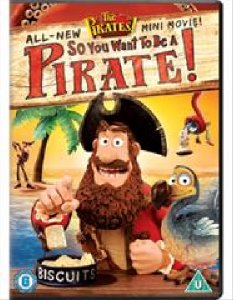 Who doesn't want to be a pirate? We can't be the only ones who countdown every year to
International-Talk-Like-A-Pirate-Day
can we?
Well, rejoice because
Sony Pictures Home Entertainment
are releasing 
Aardman's
So You Want to Be a Pirate!
on DVD exclusively in Tesco stores and online this 13th August.
Extra booty includes pirate features such as
How To Animate Your Pirate
,
How to Draw a Pirate
,
How to Talk Like a Pirate
and printable colouring pages. The mini-movie features the voices of Hugh Grant, Martin Freeman, David Tenant, Brendan Gleeson and Brian Blessed.
Carrying a recommended retail price of just £5, this is rated U and has a running time of approximately 17 minutes.
This should encourage the kiddies to demand you buy the 10th September bigger brother
The Pirates! In An Adventure With Scientists
on DVD and Blu-ray, which features the aforementioned cast.
Synopsis follows...
Welcome to So You Want to be a Pirate! Are you ready for a life of travel full of monsters and mayhem on the high seas? Well the Pirate Captain gives all the help and advice that any want-to-be pirate will need to be a dashing yet sensitive terror of the high seas!
With the help of his trusted dodo Polly, the Pirate Captain presents hilarious, fun-loving tips and advice on pirating. Learn how to remember where you buried your treasure, the secrets of navigating winds, get an inside look at pirate recruiting and even a pirate's recipe suggestion - doesn't a giant squid with lemon and barnacles sound delicious?
Featuring special guests like Charles Darwin and the Pirate King, you will set sail for giggles and fun with musical surprises along the way!