Classic remastered Peter Cushing Dr Who movies coming to Blu-ray and DVD this May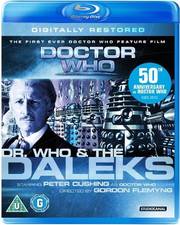 When trying to keep track of how many Doctors there has been, we mean of the timelord kind, not medical obviously, two things confuse people more than most.
The first is the widely panned Anglo-US attempt to resurrect the series with a TV movie starring Paul McGann, the other are two fondly remembered flicks with Peter Cushing.
Good news! Out on 27th May are the fondly remembered flicks, courtesy of
Studio Canal
, arriving on both Blu-ray and DVD thanks to some digital remastering. The recommended retail price for each will be £15.99.
Synopses and trailers follow...
Dr Who and the Daleks
is directed by Gordon Flemyng was originally screened in 1965 and the first time the Doctor was seen in colour. Extras include a commentary track with stars Roberta Tovey and Jenny Linden,
Dalekmania
featurette, brand new
Restoring Dr. Who and the Daleks
 featurette and interview With Gareth Owen, stills gallery and trailer.
Having invented the TARDIS, a strange machine capable of travelling into other dimensions, the Doctor and his three young accomplices set forth on a quest through time and space.
Their journey takes them into the dark, undiscovered depths of the universe and to the planet of Skaro. A primitive world devastated by nuclear war and populated by two warring species, a peaceful tribe known as Thals and a life form heavily mutated by radiation, encased in protective machines. A merciless force of destruction known as The Daleks!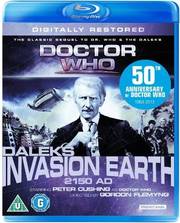 From the same director,
Dalek's Invasion Earth 2150 A.D.
, which co-stars Bernard Cribbins. It includes the brand new extras
Restoring Daleks' Invasion Earth 2150 A.D.
featurette, interviews with Bernard Cribbins and Gareth Owen, along with a stills gallery and trailer.
The earth of 2150 AD is a desolate and hostile ruin of a planet, crumbling at the edge of civilisation, slowly disappearing into the darkness of space. For the future of planet earth now belongs The Daleks, a destructive arm of alien invaders who have turned the human race into cowering slaves.
Meanwhile deep within the London Underground a group of resistance freedom fighters are planning an attack. But there's only one man who could possibly help them succeed in destroying their extra terrestrial enemies and take back control of planet earth. A man of mystery, a man of time and space, a man known only as The Doctor.