Doomwatch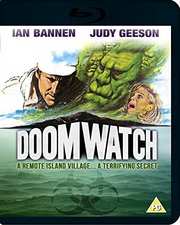 Certificate: PG
Running Time: 85 Minutes
Retail Price: £17.99
Release Date: 20/06/2016
Content Type: Movie
Synopsis:
Doomwatch is one of the great, lost TV programmes, a classic slice of science fiction (with the emphasis as much on science as the fiction), a stunningly prescient homegrown programme that followed hot on the heels of Doctor Who. Famed for its look at issues facing us long before anyone else, not least technological developments, the threats they pose and fears over what was happening to the environment, it
also set the template for sci-fi TV programmes for years to come – with the series spinning off into the feature film world.

And now, for the first time on Blu-ray and in a newly restored DVD version, the feature length outing for sci-fi thriller Doomwatch arrives on 20 June 2016 courtesy of Screenbound.

Doomwatch, directed by Peter Sasdy (Taste the Blood of
Dracula, Hands of the Ripper) takes the TV series one step further
and, thanks to this pristine restoration looks better than ever.

The acclaimed feature film of the BBC TV series in which Dr Del Shaw (Ian Bannen) of Doomwatch - the British government's environmental monitoring organisation - travels to the island of Balfe to investigate pollution. A year earlier an oil tanker was holed and its cargo contaminated the local waters - but has there been any adverse long-term effects? The villagers are all suspicious of Shaw, especially the menfolk, who seem to have transformed into near-neanderthals. Samples of the local fish sent back to Doomwatch prove to be unnaturally large, and after teaming up with a local teacher (Judy Geeson) Shaw discovers that the transformation of the men is due to a rare disease called acromelagy. Co-stars Percy Herbert and George Sanders.
Special Features:


Directed By:
Peter Sasdy

Written By:
Kit Pedler ... (series "Doomwatch")

Gerry Davis ... (series "Doomwatch")

Clive Exton ... (final screenplay)

Starring:
Ian Bannen
Judy Geeson
John Paul
George Sanders

Soundtrack By:
John Scott

Director of Photography:
Kenneth Talbot

Editor:
Keith Palmer

Costume Designer:
John Hilling

Production Designer:
Colin Grimes

Producer:
Tony Tenser

Distributor:
Screenbound Pictures