Warlords Of Atlantis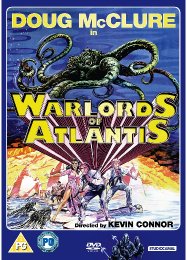 Certificate: PG
Running Time: 92 Mins
Retail Price: £15.99
Release Date: 30/07/2012
Content Type: Movie
Synopsis:
From makers of cult classics The Land That Time Forgot, The People That Time Forgot, and At The Earth's Core, comes a perilous, nautical tale of mutiny, murder, hidden treasure, giant sea monsters and lost worlds, a creature feature beyond comparison; Warlords Of Atlantis.

Directed by Kevin Connor and written by Brian Hayles, Warlords Of Atlantis stars Doug McClure, Peter Gilmore and Shane Rimmer.

Aboard the Texas Rose, a professor of archaeology, his scientist son, and an engineer are on a quest to find the lost city of Atlantis, but when a giant octopus attacks their ship they awaken within a mysterious under water realm. A deep-sea kingdom has been colonised by an advanced alien race with immense psychic powers and a dark secret.
Special Features:


Video Tracks:
7:78.1 Colour

Audio Tracks:
Mono 2.0

Directed By:
Kevin Connor

Written By:
Brian Hayles (screenplay)


Starring:
Doug McClure
Peter Gilmore
Shane Rimmer
Lea Brodie
Michael Gothard
Hal Galili
John Ratzenberger
Derry Power
Donald Bisset
Ashley Knight
Robert Brown
Cyd Charisse
Daniel Massey

Casting By:
Allan Foenander

Soundtrack By:
Michael Vickers (as Mike Vickers)

Director of Photography:
Alan Hume

Editor:
Bill Blunden

Visual Effects:
Roger Dicken .... monsters by
George Gibbs .... special effects
John Richardson .... special effects supervisor
Dave Chagouri .... special effects (uncredited)

Producer:
John Dark

Executive Producer:
Jim Brown

Distributor:
Studio Canal