BBC Worldwide fitness DVDs for December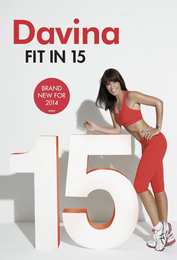 Normally, we split up
BBC Worldwide's
releases for the following month by date order, but not this time! We've already covered
The Paradise: Series 2
in a previous item, so what's left before the year is out splits nicely into fitness and music categories.
Today we look at the two fitness titles, one starring a national treasure made famous by presenting the biggest reality TV show of them all, and the other was the winner of the final series on Channel 4, before it hopped to C5.
The first of these arrives on 2nd December is
Davina: Fit In 15
, which carries a recommended retail price of £20.42.
Davina McCall's brand-new workout can get you fit and toned with just 15 minutes exercise a day! There are four 15 minute workouts which are all designed to burn fat and tone muscle, and if you're feeling really energised you can even join two or three of the workouts together. There's no need for a separate warm up because all the workouts build in intensity, so even if you're super busy you can get FIT IN 15!
Following at the end of the month on 30th December is
Josie Gibson: 21 Day Fat Burn
, also carrying a retail price of £20.42.
Following her number one selling weight loss DVD in 2012, Josie has taken all that she has learned to help others lose the weight as she has, and she can help you shed those post-Christmas pounds too! Over the past year she has helped many individuals and groups of women to overcome their weight issues, with her personal training being featured on This Morning, Alan Titchmarsh and in Closer magazine.
Since filming her last DVD she has now qualified as a PTI in her own right. Her new title will feature three 20 minute workouts based upon interval training techniques, these are intended to be worked on 3 days followed by a 4th, a totally unique concept, the Friday Fitness Test.
In this 20 minute session Josie will challenge you each week to follow the routine and improve upon your last week's result. It's a totally new way to encourage and Incentivise training at home, as well as allowing the user to see, feel and appreciate their own improvements.
More from
BBC Worldwide
tomorrow.