Robert Altman's classic The Long Goodbye comes to Blu-ray this December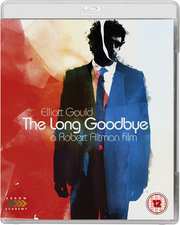 Like a bit of film noir? Then rejoice for
Arrow Films
have announced the 2nd December release of Robert Altman's classic
The Long Goodbye
on Blu-ray. Starring Elliott Gould, Nina van Pallandt and Sterling Hayden, this features cinematography from Vilmos Zsigmond.
Arriving with an HD digital transfer by MGM Studios in its original 2.35:1 aspect ratio with an uncompressed mono soundtrack, it also includes optional English SDH subtitles for the deaf and hearing impaired.
Extras include an isolated music and effects soundtrack,
Rip Van Marlowe
interview featurette,
Vilmos Zsigmond Flashes The Long Goodbye
interview featurette,
Giggle and Give In
documentary profile of Altman,
Elliott Gould Q&A
with crime novelist Michael Connelly,
David Thompson on Robert Altman
featurette,
Tom Williams on Raymond Chandler
featurette and
Maxim Jakubowski on Hard Boiled Fiction
featurette.
Oh and radio spots, trailer, reversible sleeve with the original poster artwork, and a booklet illustrated with original archive stills and posters. The recommended retail price should be around £19.99.
Synopsis and trailer follow...
When private eye Philip Marlowe is visited by an old friend, this sets in train a series of events in which he's hired to search for a missing novelist and finds himself on the wrong side of vicious gangsters.
So far so faithful to Raymond Chandler, but Robert Altman's inspired adaptation of the writer's most personal novel takes his legendary detective and relocates him to the selfish, hedonistic culture of 1970s Hollywood, where he finds that his old-fashioned notions of honour and loyalty carry little weight, and even his smoking, universal in film noir, is now frowned upon.