Exhale: Core Fusion Abs & Arms (With Resistance Band)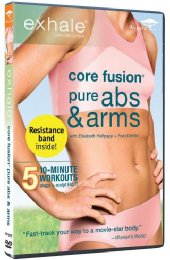 Certificate: Excempt
Running Time: 55 Mins
Retail Price: £17.99
Release Date: 28/12/2009
Content Type: TV Series
Synopsis:
A quarter of a million people have transformed their bodies at Exhale, the exclusive mind/body spa. Now you can get these same results at home.

Create chiseled arms and washboard abs with Core Fusion Pure Abs & Arms. Targeted to work your entire upper body, this programme will put you on the fast track to a beautifully toned and defined physique.

Using a resistance band, you'll sculpt your shoulders and back, lose the tricep jiggle and build core strength for a healthy, flexible spine. The programme is separated into five segments of just 10 minutes each. Pick a few to fit your schedule, or use them together for a complete (and completely rewarding) workout. Plus, the bonus stretch strengthens those hard-to-reach but highly important back and spinal muscles.
Special Features:
Includes Free Resistance Band

Related Websites:
www.exhalespa.com

Video Tracks:
1.66:1

Directed By:
James Wvinner

Starring:
Fred DeVito and Elisabeth Halfpapp

Producer:
Paul Eckstein

Executive Producer:
James Wvinner
marie Guinto

Distributor:
Acacia