Infernal Affairs Trilogy out on Blu-ray this December exclusive to Amazon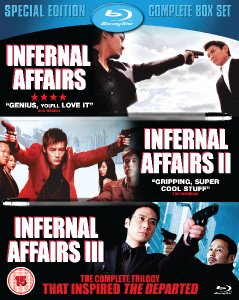 "An urban epic… of godfather-style grandeur"
-Total Film
"Out-HEATs Michael Mann
"
-Tony Rayns
"A Gripping Psychological Thriller"
-

BBC Online
For Immediate Release - London 23rd December 2010
--
Spanning ten years, likened to THE GODFATHER trilogy, this is the crime epic of our time. INFERNAL AFFAIRS TRILOGY remains a landmark of both Hong King cinema and international crime cinema. Winning 29 awards and another 38 nominations across the three films, the emphasis on character and cat-and-mouse plotting over action marked this out from previous Hong Kong cinema, while the impeccable production quality showed the rest of the world that Hong Kong cinema could compete with the best blockbusters every other cinema had to offer. It remains as powerful and riveting today as it did on release.
Synopsis:
Infernal Affairs
Ming and Yan live parallel lives; one is undercover in the Triads for the Police, the other is a mole in the police. Eventually their paths must cross…
Infernal Affairs 2
We go back ten years to see their lives as they first were when they were initially recruited into their respective roles. Friendships fracture, foes join forces and nothing is as it seams.
Infernal Affairs 3
10 months after the first film we see Ming as he attempts to fit into the police force and slowly morphing into Yan as he has to come to terms with the life he has chosen.
Starring: Tony Leung (HARD BOILED, HERO), Andy Lau (HOUSE OF FLYING DAGGERS, THE WARLORDS), Anthony Wong (EXILED, VENGEANCE), Eric Tsang (AN EMPRESS AND THE WARRIORS, BODYGUARDS AND ASSASSINS), Shawn Yue (DRAGON TIGER GATE, INVISIBLE TARGET), Edison Chen (THE DARK KNIGHT, THE GRUDGE 2), and Kelly Chen (BREAKING NEWS, AN EMPRESS AND THE WARRIORS
Directed by: Andrew Lau (LEGEND OF THE FIST: THE RETURN OF CHEN ZHEN, INITIAL D) and Alan Mak (OVERHEARD, INITIAL D),
INFERNAL AFFAIRS TRILOGY [BLU-RAY]
(BBFC 15) will be available on 3-disc region B Blu-ray (£29.99) by Palisades Tartan exclusively from Amazon UK on 27th December 2010.
Blu-Ray Features
Product Code: TVD4053
Disc Type: BD-25 (x3)
Video codec: MPEG-4 AVC
Video Resolution: 1080p
Aspect Ratio: 2.35:1 anamorphic
Running time: 100 minutes approx./114 minutes approx./118 minutes approx.
List of extras:
IA1: Cantonese PCM 5.1/Cantonese Dolby Digital 5.1/Optional English Subtitles/Scene Selection Commentary/Making of/Trailer/Confidential File/Deleted Scenes
IA2: Cantonese DTS-HD MA 6.1/Cantonese Dolby Digital EX 5.1/Optional English Subtitles/Scene Selection/Making Of/Trailer/Confidential File/Deleted Scenes
IA3: Cantonese DTS-HD MA 6.1/Cantonese Dolby Digital EX 5.1/Optional English Subtitles/Scene Selection/Making Of/Trailer/
About Palisades Tartan UK:
Tartan Films was originally founded in 1984 and is credited with bringing Asian Extreme films to the attention of audiences as well as some of the most compelling art house films of the last quarter century. In July 2008, Palisades Pictures acquired a majority of Tartan Films UK's 400+ film library assets and branded the new company Palisades Tartan UK. The company also has a US counterpart, Palisades Tartan USA. Palisades Tartan will continue to expand an already distinctive and provocative slate of films in both territories by focusing on quality film acquisitions, thus significantly increasing the size of their overall library. Palisades Pictures and its parent company Palisades Media Corp is a prestigious financier of print & advertising for the independent film market. Together with its affiliate, Palisades Media Asset Fund, Palisades has securitized and financed more than 550 films.