World War 2 ghost action in Nazi Dawn on DVD this August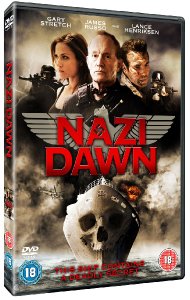 Nazi Dawn
- Out on DVD August 30th 2010
A dark and ghostly wartime secret is about to be uncovered when a battle between good and evil breaks out aboard a WWII-era battleship in
Nazi Dawn
, set for release through Revolver Entertainment on August 30th 2010.
When the SS Lane Victory, reactivated and deployed in the Persian Gulf for black-op interrogations, falls radio silent, an elite Marine task force are sent to apprehend the terrorists. Led by Col. John Willets (Lance Henriksen), the team find one survivor, John's son Colin (Gary Stretch).
But as the soldiers search for the men responsible for the bloody butchery of the ship's crew, they soon discover a more devious enemy than any of them had ever imagined and all hell breaks loose as they become locked in brutal battle to the death...
Visit the official site:
http://www.nazidawn.com/