Zombie Women of Satan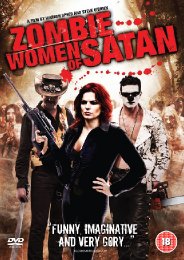 It Really Was the Wrong Time of the Month!
Certificate: 18
Running Time: 85
Retail Price: £12.99
Release Date: 21/06/2010
Content Type: Movie
Synopsis:
When a group of nightclub performers - including Pervo the clown, Zeus, a flatulent dwarf, and Skye, a feisty rock chick - arrive on a remote farm for a cable TV interview, they soon discover the dark secret of the sinister family who live there - they have been kidnapping and torturing gorgeous young women as part of a perverted cult.

However, the family's experiments have now gone wrong, and the stocking-clad women have now become ravenous zombies! Now trapped, our ragtag group of visitors must unite in a desperate bid to stay alive...

Sexy, gory and gut-munchingly hilarious - Zombie Women Of Satan is THE most outrageous zombie comedy movie of the year!
Special Features:
- Director's Commentary
- Interview With Warren Speed
- Theatrical Trailer
- Stills Gallery

Related Websites:
www.zombiewomenofsatan.com

Video Tracks:
Anamorphic Widescreen 1.85:1

Audio Tracks:
Dolby Digital 5.1 Surround English
Dolby Digital 2.0 Stereo English

Directed By:
Steve O'Brien
Warren Speed

Written By:
Warren Speed

Starring:
Warren Speed
Victoria Hopkins
Seymour Mace
Peter Bonner
Kate Soulsby
Christian Steele
Bill Fellows
Victoria Broom
Gillian Settle
Marysia Kay
Kathy Paul

Soundtrack By:
Dan Bewick

Director of Photography:
Steve O'Brien

Editor:
Richard Johnstone

Distributor:
Revolver Entertainment