Russian tank drama White Tiger hits DVD this April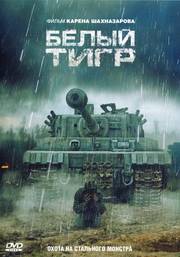 Metrodome Distribution
have announced the release of tank war drama
White Tiger
for 29th April on DVD. Directed by Karen Shakhnazarov, this stars Aleksey Vertkov, Vitaly Kishchenko and Valery Grishko
The marketing blurb says this remains true to documented events of the war and features historic personalities including Zhukov, Hitler and Keitel). Alas no details on audio tracks, so we can't tell you if this is in it's original Russian with English subtitles, but we at least hope this is an option for reasons the trailer below will reveal.
Synopsis and dubbed trailer follow...
World War Two is drawing to a close. Furious and prolonged fighting is exhausting both the Soviet and the fascist troops. The more decisive the advance of the Soviet army, the more often White Tiger, a huge, indestructible fascist tank, appears in the battlefield. It relentlessly emerges from the smoke of combat, ruthlessly destroys the adversary and swiftly vanishes. No one can either verify or refute its existence. However, the Soviet military command decides to build an extraordinary tank – a special version of the T-34.
The crew of this tank is headed by a man with a remarkable past, a tank crewman who was almost burnt alive in combat and doomed to death. Contrary to all expectations, he survives, recovers and returns to the ranks. He does not know his own name, he does not remember anything from his past, but he has acquired the unusual ability to understand the language of tanks. He is sure that the elusive fascist tank exists and must be destroyed, because White Tiger is the embodiment of war, its terror and its blood.
The pursuit of the mystic monster begins. Who will win in this duel?