Finnish dark drama The Purge is out on DVD this April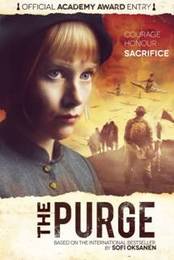 When so much of English movies are predictable tosh, we can always rely on foreign language cinema for features that at least attempt to offer something different from our popcorn fodder.
And with that thought,
Metrodome Distribution
have announced the release of
The Purge
for 15th April on DVD. Based on the international bestseller by Sofi Oksanen and directed by Antti Jokinen, this stars Laura Birn, Liisi Tandefel and Amanda Pilke.
If you didn't know, this was Finland's official entry to the 2013 Academy Awards. It has a runtime of 119 minutes and a recommended retail price of £15.99.
Synopsis and trailer follow...
Aliide, an elderly widow living alone deep in an Estonian forest, discovers one night the bedraggled figure of Zara, a young woman who has just escaped from the Russian mafia who held her as a sex slave.
Zara's plight is a painful reminder of Aliide's past in the Second World War, when Estonia fell into the clutches of first the Nazis and then Stalin's Russia. Aliide harboured a resistance fighter in her house, shielding him from the rampaging Red Army who subjected her and her family to unimaginable abuse.