War drama The Final Sacrifice out on DVD this January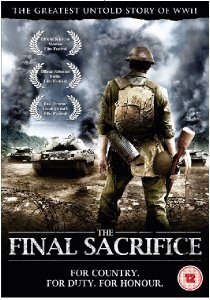 THE FINAL SACRIFICE
FOR COUNTRY. FOR DUTY. FOR HONOUR.
DVD Release date: 24th January 2011
Running time: 102 Minutes
Price: £15.99 / Certificate: 12
One of the great untold World War II stories,
THE FINAL SACRIFICE
is a thrilling and powerful portrait of those heroic souls willing to give their lives for country, for family, for honour.
Set in Northern Italy during the last embers of the Second World War, the beleaguered vanguard of Axis forces, entrenched on an increasingly isolated position, suffer daily aerial bombings and the constant threat of attack from local partisans.
Tempers flare between these 'allies', as their enemies threaten to overwhelm them and their impending fate looms over the devastated, war-torn horizon.
Compellingly directed, this explosive, action-packed war film combines the disparate stories revealed in the long lost letters of a desperate band of brothers fighting on the front line.
Extra Features
The Making of THE FINAL SACRIFICE