Apocalypse Now: Final Cut. Collector's Edition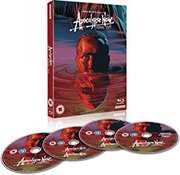 Certificate: 15
Running Time:
Retail Price: £15.00
Release Date: 16/09/2019
Content Type: Movie
Synopsis:
A never-before-seen and newly restored cut of Francis Ford Coppola's spectacular cinematic masterpiece in a way which the director believes "looks better than it has ever looked and sounds better than it has ever sounded".

Apocalypse Now was nominated for 8 Academy Awards (including Best Picture) and won 2 Academy Award for Best Cinematography and Best Sound, 2 BAFTAs for Best Direction and Best Supporting Actor and the Palme d'Or in Cannes. Starring Academy Award winner Marlon Brando (1972, Best Actor, The Godfather), Academy Award winner Robert Duvall (1983, Best Actor, Tender Mercies), Golden Globe winner Martin Sheen (2001, Best Actor - TV Series, "The West Wing"), Academy Award nominee Dennis Hopper (1986, Best Supporting Actor, Hoosiers), Academy Award nominee Laurence Fishburne (1993, Best Actor, What's Love Got to Do with It), and Academy Award nominee Harrison Ford (1985, Best Actor, Witness), the film follows Army Captain Willard (Martin Sheen), a troubled man sent on a dangerous and mesmerizing odyssey into Cambodia to assassinate a renegade American colonel named Kurtz (Marlon Brando), who has succumbed to the horrors of war and barricaded himself in a remote outpost.

The best visual and sound technologies have been used to present Coppola's true vision of the film: one that delivers deep, visceral visual and auditory impact. "The audience will be able to see, hear and feel this film how I always hoped it could be-from the first 'bang' to the final whimper" said the film-maker.

All three versions of this film are available on this 4 disc release including Apocalypse Now: The Final Cut, Apocalypse Now: Theatrical Cut, and Apocalypse Now Redux Extended Cut.
Special Features:
4K UHD SPECIAL FEATURES
New Intro by Francis Ford Coppola
Audio Commentary by Director Francis Ford Coppola

BLU-RAY SPECIAL FEATURES
Disc One
NEW: Intro by Francis Ford Coppola
Audio Commentary by Director Francis Ford Coppola

Disc Two
An Interview with John Milius
A Conversation with Martin Sheen and Francis Ford Coppola
"Fred Roos: Casting Apocalypse" Featurette
The Mercury Theatre on the Air: Heart of Darkness – November 6, 1938
"The Hollow Men" Featurette
Monkey Sampan "Lost Scene"
Additional Scenes
"Destruction of the Kurtz Compound" End Credits
"The Birth of 5.1 Sound" Featurette
"Ghost Helicopter Flyover" Sound Effects Demonstration
"The Synthesizer Soundtrack" Article by Bob Moog
"A Million Feet of Film: The Editing of Apocalypse Now" Featurette
"Heard Any Good Movies Lately? The Sound Design of Apocalypse Now" Featurette
"The Final Mix" Featurette
"2001 Cannes Film Festival: Francis Ford Coppola" Featurette
"PBR Streetgang" Featurette
"The Color Palette of Apocalypse Now" Featurette
Disc Credits

Disc Three
Hearts of Darkness: A Filmmaker's Apocalypse (with Optional Audio Commentary by Francis and Eleanor Coppola)
NEW: Tribeca Film Festival Q&A with Francis Ford Coppola and Steven Soderbergh
NEW: Never-Before-Seen B-Roll Footage
NEW: Apocalypse Now Dolby featurette (HD)
NEW: A history of Apocalypse Now on Home Video (HD)
John Milius Script Excerpt with Francis Coppola Notes (Still Gallery)
Storyboard Collection
Photo Archive
Unit Photography
Mary Ellen Mark Photography
Marketing Archive
1979 Teaser Trailer
1979 Theatrical Trailer
1979 Radio Spots
1979 Theatrical Program
Lobby Card and Press Kit Photos
Poster Gallery
Apocalypse Now Redux Trailer

DIGITAL SPECIAL FEATURES
Audio Commentary by Director Francis Ford Coppola

Related Websites:
http://www.studiocanal.co.uk/
https://apocalypsenowfinalcut.com/