Ralph Fiennes' directorial debut Coriolanus comes to DVD, Blu-ray and download this June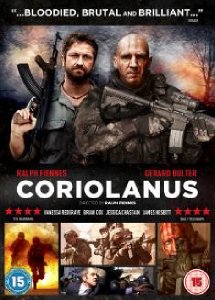 CORIOLANUS
On Blu-ray, DVD and Digital Download from 4th June
Nature Teaches Beasts to Know Their Friends…
An all-star cast unite in Ralph Fiennes' directorial debut
CORIOLANUS.
This contemporary, action-packed version of Shakespeare's classic story of revenge stars Fiennes (
The Hurt Locker, Great Expectations),
Gerard Butler (
Machine Gun Preacher
,
300
), Vanessa Redgrave (
Anonymous, Atonement
), Jessica Chastain (
The Help, The Tree of Life
), James Nesbitt (
Cherrybomb, Match Point)
and Brian Cox (
Rise Of The Planet of the Apes, The Bourne Supremacy
).
CORIOLANUS
is out to own on DVD and Blu-ray and as a digital download from 4th June.
The common people of Rome are hungry. Riots are widespread and the people's fury rapidly becomes focused on the Republic's most courageous general, Caius Martius (FIENNES), who has publicly expressed his scorn for their suffering.
But Rome is also at war with the Volsces, a neighbouring state whose guerrilla-style army is led by Martius's sworn enemy, Tullus Aufidius (BUTLER). Following the latest, brazen Volscian taunt, Rome must retaliate. When the people of Rome turn on the heroic Caius Martius he finds an unlikely ally in his most-hated enemy and together they plot a heinous revenge…
CORIOLANUS
is a bloody, but timeless, tale of war and revenge set against a modern backdrop.
CORIOLANUS Blu-ray & DVD Details:
· RRP BD/DVD: £24.99 / £19.99
· Certificate 15
· Audio TBC
· Aspect Ratio TBC
Special Features (TBC)