War drama Zaytoun arrives on DVD this April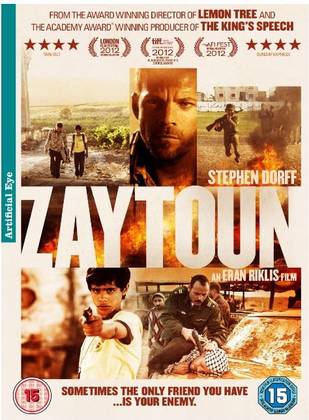 Artificial Eye
have anounced the release of war drama
Zaytoun
for 18th April on DVD, where is the Blu-ray we ask ourselves? Anyway, this stars Stephen Dorff and is directed by Eran Riklis.
Extras will include a making-of documentary and a trailer, whilst the runtime is 112 minutes and the recommended retail price will be £15.99. But where is the Blu-ray?
Synopsis and trailer follow...
Beirut 1982: the First Lebanon War is in full force as the Israeli army clashes with PLO militants and Syrian and Lebanese forces. Living among the rubble and unexploded shells is Fahed, a young Palestinian boy who has recently lost his father in an air raid.
When he captures Yoni, an Israeli pilot shot down over his town, Fahed seizes the opportunity to use his prisoner as a way to get back into Israel and visit the town where his grandfather once lived.
On the journey the two must overcome bitter differences if they are to survive and a tenuous friendship slowly begins to take root amid the barren debris of war…