The Bridge on the River Kwai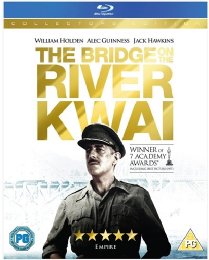 Certificate: PG
Running Time: 161 Mins
Retail Price: £13.93
Release Date: 06/06/2011
Content Type: Movie
Synopsis:
After settling his differences with a Japanese PoW camp commander, a British colonel co-operates to oversee his men's construction of a railway bridge for their captors - while oblivious to a plan by the Allies to destroy it.

Spectacularly produced, and the winner of seven Academy Awards' (1957) including Best Picture, Best Director, and Best Actor (Alec Guinness), The Bridge On The River Kwai continues to be one of the most memorable cinematic experiences of all time. Now, for the first time on Blu-ray, following an extensive all-new 4K digital restoration from the original negative with newly re-mastered 5.1 audio, experience director David Lean's masterpiece as you never have before.
Special Features:
William Holden and Alec Guinness on The Steve Allen show
Newly discovered archival audio of William Holden Narrating The Bridge on the River Kwai Premiere
Crossing the Bridge: Picture-in-Graphics track and more!

Related Websites:
http://www.sonypictures.co.uk/homevideo/

Directed By:
David Lean

Starring:
Alec Guinness, William Holden,

Distributor:
Sony Pictures Home Entertainment