Apocalypse Now (US)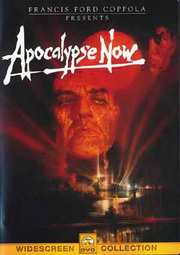 One of the most powerful films of all time
Certificate: R
Running Time: 153 mins
Retail Price: $29.99
Release Date:
Content Type: Movie
Synopsis:
Francis Ford Coppola`s stunning vision of man`s heart of darkness revealed through the madness of the Vietnam War.

Lieutenant Willard receives orders to seek out a renegade military outpost led by the mysterious Colonel Kurtz. Willard`s mission: "Terminate with extreme prejudice."

One of the most powerful films of all time, Apocalypse Now was nominated for eight Academy Awards and won two for Best Sound and Best Cinematography.
Special Features:
Interactive Menus
Scene Selection
Trailer
Scenes from Destruction of the Kurtz Combound with commentary by Francis Ford Coppola
Excerpts from the original theatrical program

Video Tracks:
Widescreen Anamorphic 2.00:1

Audio Tracks:
Dolby Digital 5.1 English
Dolby Digital Surround 2.0 French

Subtitle Tracks:
English
CC: English

Directed By:
Francis Coppola

Written By:
Michael Herr
Joseph Conrad
John Milius
Francis Coppola

Starring:
Dennis Hopper
Albert Hall
Martin Sheen
Marlon Brando
Laurence Fishburne
Frederic Forrest
Robert Duvall

Soundtrack By:
Mickey Hart
Carmine Coppola
Francis Coppola

Music From:
Jim Morrison
Robby Krieger
Richard Wagner
Ray Manzarek
John Densmore

Editor:
Randy Thom
Richard Marks
Lisa Fruchtman
Walter Murch
Gerald B. Greenberg

Costume Designer:
Charles E. James

Production Designer:
Dean Tavoularis

Producer:
Mona Skager
Eddie Romero
Francis Coppola
Tom Sternberg
Fred Roos
Gray Frederickson
John Ashley

Distributor:
Paramount Pictures