Godfather Trilogy, The: 5 Disc Box Set (UK)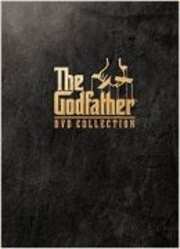 Francis Ford Coppola`s Acclaimed Masterpieces
Certificate: 18
Running Time: 545 mins
Retail Price: £59.99
Release Date:
Content Type: Movie
Synopsis:
The Godfather
Considered by many to be the greatest movie ever made, Francis Ford Coppola`s epic masterpiece features Oscar winner Marlon Brando as the head of the Corleone family. Coppola paints a chilling portrait of a Sicilian family`s rise and near fall from power in America, and the passage of rites from a father to a son who was previously uninvolved in the business.
Godfather Part II
The Godfather Part II is one of the rare breed of cinematic sequels which is as good as, and perhaps better than, the original. Al Pacino heads the star cast as Michael Corleone, heir to the criminal empire established by his Mafioso father, the late Don Corleone.

The time is mid-1940s: Michael is now in charge of all gambling activities in Nevada, making certain that any and all political or mob enemies are quickly bought off, compromised, or disposed of. Throughout the film, Michael`s travails are paralleled with the early experiences of his father, played in flashbacks by Robert DeNiro.

The Godfather III
In the final instalment of the Godfather Trilogy, an aging Don Michael Corleone seeks to legitimise his crime family`s interests and remove himself from the violent underworld.

Now in his sixties, Michael is dominated by two passions: freeing his family from crime, and finding a suitable successor. That successor could be fiery Vincent (Andy Garcia)... but he may also be the spark that turns Michael`s hopes of business legitimacy into an inferno of mob violence.
Special Features:
Interactive Menus
Scene Access
Director`s Commentary on all films
Godfather Documentaries: `Francis Coppola`s Notebook` (from book to screen), `On Location`, `The Godfather Family`
`Behind The Scenes 1971`, `The Cinematography of The Godfather`, `Coppola and Puzo on Screenwriting`, and two featurettes on the music of the Godfather
Additional Scenes
Storyboards from II and III
Character, Cast and Filmmaker Bios
Academy Award acceptance speeches
Photo Galleries
Theatrical Trailers

Video Tracks:
Widescreen Anamorphic 1.85:1

Audio Tracks:
Dolby Digital 5.1 English
Dolby Digital Mono French

Subtitle Tracks:
English

Directed By:
Francis Ford Coppola

Written By:
Mario Puzo
Francis Ford Coppola

Starring:
James Caan
Richard S. Castellano
Robert Duvall
Diane Keaton
Al Pacino
Marlon Brando

Casting By:
Fred Roos
Andrea Eastman
Louis DiGiaimo

Soundtrack By:
Nino Rota

Director of Photography:
Gordon Willis

Editor:
Peter Zinner
Murray Solomon
William Reynolds
Barbara Marks
Marc Laub

Costume Designer:
Anna Hill Johnstone

Production Designer:
Dean Tavoularis

Producer:
Albert S. Ruddy
Gray Frederickson

Distributor:
Paramount Pictures