French drama The Round Up comes to DVD this July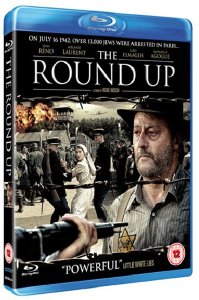 THE ROUND UP
CERTIFICATE: 12
RUNNING TIME: 115 mins
DVD RELEASE DATE: 18th JULY
Revolver Entertainment presents No.1 French box office smash hit THE ROUND UP, Roselyne Bosch's star-studded and tense drama throws a powerful light on one of the most disturbing episodes in recent French history.
A gripping story ignored until relatively recently, THE ROUND UP also features a prestigious cast including Jean Reno (The Da Vinci Code) Gad Elmaleh (Comme ton Pére) and Mélanie Laurent (Inglorious Basterds).
Based on meticulous research and told through the story of several Jewish families who find themselves taken unawares by the ferocious turn of events, the film portrays the few weeks in July 1942, when more than 13,000 Parisian Jews, including more than 4,000 children, were rounded up and taken to the now notorious Vel' d'Hiv stadium.
Using real life eyewitness accounts, written and directed by former investigative journalist Bosch, this moving historical drama follows Joseph Weismann, a young Jewish boy who learns to live happily with his family within a small Jewish community in Nazi occupied Paris, where they have taken refuge from the war. That is until the night of 16th July 1942 when their fragile happiness is shattered.
From the Winter Velodrome, to the camp at Beaune la Rolande, from Vichy to the terrace of Hitler's Berghof, THE ROUND UP is a heart-wrenching story of one of the most extreme and devastating mass-arrests of Jewish people during World War Two, charting the real-life destiny of the victims and their persecutors.
Those who orchestrated it.
Those whose trust was tragically misplaced.
Those who fled.
Those who resisted.
All the characters in this film are real. All the events, even the most extreme, took place in that summer of 1942.
Notes to the Editor:
About Revolver Entertainment
Founded by Justin Marciano in 1997, Revolver Entertainment is one of the UK's leading independent all-rights film distribution companies with offices in London and Los Angeles. Revolver has won no less than 14 major awards from the entertainment industry for its creative initiatives in the last five years.
Revolver's multi-award winning marketing campaigns set the company apart from its competitors and has enabled Revolver to define itself by its dynamic move into new areas such as film production and highly successful simultaneous release strategies. The company recently set up its own production arm - Gunslinger, which has produced three films in its first 15 months: Shank, a top 10 UK box office hit in 2010, Sket, which is currently in post-production, and most recently Anuvahood, which has broken all previous box office records for Revolver, taking more than £2.1 million at UK cinemas since its release on 18 March.
Its most notable recent releases include Banksy's BAFTA and Oscar® nominated Exit Through the Gift Shop and French box office hit Heartbreaker. Revolver won two major awards at the 2010 Screen Distribution and Marketing Awards - Best Foreign Language Film of the Year Award for Heartbreaker and Best Premiere for The Infidel.
A pioneer in film distribution methods, Revolver was the first in the UK to release a live action digital 3D feature film - U23D, and the first to simultaneously release a UK title across cinemas, DVD, VOD, electronic rental and sell-through - the horror film Mum & Dad. It also released the first fully environment-friendly feature film in the UK. Big River Man being delivered to the market via digital means wherever possible.
Forthcoming releases include Talihina Sky: The Story Of Kings Of Leon and Ill Manors directed by urban music sensation Plan B (a.k.a. BenDrew). Other upcoming titles in the company's roster include the Stone Roses inspired Spike Island and Jon Hewitt's X.