Controversial drama The Kennedys brings glamour to the small screen via DVD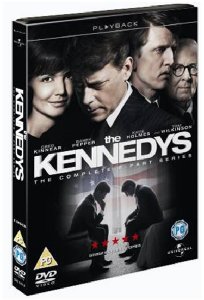 Discover the truth behind the most iconic family in American history...
"
The story of America's most remarkable political dynasty
"
Daily Express
"
Big and glamorous...the stars make it endlessly watchable
"
Daily Mail
"
Dallas in the White House
"
Radio Times
THE KENNEDYS
Available on DVD from 18th July 2011
It's time to rediscover the most important moments of America's most prominent political dynasty during the Twentieth Century, as
The Kennedys
comes to DVD on
18th July 2011
, courtesy of Universal Playback.
The Kennedys
is an eight part series showcasing glossy and dramatic production values and boasting an all star Hollywood cast led by
Greg Kinnear
(
Little Miss Sunshine
) playing JFK,
Katie Holmes
(
Batman Begins
) as Jackie Kennedy,
Barry Pepper
(
True Grit
) as Robert F Kennedy and
Tom Wilkinson
(
The Green Hornet
) as Joseph F Kennedy. The series uses public events and background history to tell the intimate story of this iconic family's epic achievements and private failures.
Key moments in the Kennedys history are charted in this sumptuous series including Election Day 1960, where America chooses between charismatic Senator John F Kennedy and his opponent Vice President Richard Nixon, the intense competition between the two Kennedy brothers, defining moments in the Kennedy administration, the special relationship between JFK and his First Lady, Jackie Kennedy and of his tragic and infamous assassination.
The Kennedys
is about loyalty and love, resentment and betrayal, about people imbued with great gifts and burdened by great flaws, about success of Biblical proportions and tragedy worthy of the Greeks. Also included is a special 48 minute bonus behind-the-scenes feature "From Story to Film: The Making Of" if you are left wanting more!
Ends
Release Information
Release date:
18th July 2011
Credit:
Universal Playback
Genre:
Drama
Cert:
PG
Discs:
3
RRP:
£24.99
Retail catalogue number:
8284498
Retail barcode:
50505-8284498-6
Copyright:
Film © 2010 Kennedys Production(Ontario) Inc. All Rights Reserved. Packaging Design © 2011 Universal Studios. All Rights Reserevd.
Extras:
From Story to Film: The Making Of (48mins approx)
Total feature running time:
5hrs 46mins approx