Season 4 of legal thriller Damages comes to DVD in July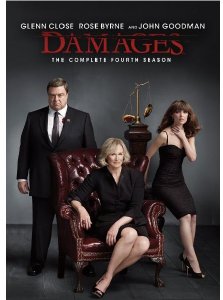 Fans of American legal TV series can enjoy
Damages: The Complete Fourth Season
out on DVD this July 16th. Starring Glenn Close, Rose Byrne, John Goodman and Dylan Baker, this gets a release from Sony Pictures Home Entertainment and will carry a retail price of £34.99.
Including all ten episodes, amongst the extras are deleted scenes, a blooper reel, two new featurettes, one of which is a behind-the-scenes discussion with cast and crew, and the other Glenn Close examining the growth of her character.
Created by Todd A. Kessler, Daniel Zelman and Glenn Kessler, there are a lovely 480 minutes worth of drama for your enjoyment, as you watch Patty and Ellen embroiled in a wrongful death suit against a private military contractor.
The synopsis follows...
For brilliant attorney Patty Hewes (three-time Emmy® winner Glenn Close), the stakes have never been higher, professionally or personally, in the riveting Fourth Season of the hit legal thriller. When Patty joins former charge Ellen Parsons (Rose Byrne) to expose a corrupt security firm in Afghanistan, they unravel a cover-up at the highest levels involving an inscrutable mercenary agent (Dylan Baker), a key witness taken hostage (Chris Messina) and the powerful CEO (double Emmy® winner John Goodman) with his own explosive secrets. It all comes down to one final, fatal double-cross.
And the list of episodes is...
There's Only One Way to Try a Case

I've Done Way Too Much for This Girl

I'd Prefer My Old Office

Next One's on Me, Blondie

We'll Just Have to Find Another Way to Cut the Balls Off This Thing

Add That Little Hopper to Your Stew

I'm Worried About My Dog

The War Will Go On Forever

There's A Whole Slew of Ladies With Bad Things To Say About The Taliban

Failure is Lonely