The Round Up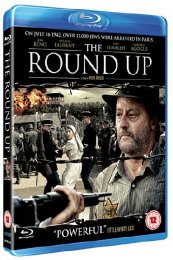 Available on DVD/Blu-Ray
Certificate: 12
Running Time: 115 mins
Retail Price:
Release Date: 18th July
Content Type: Movie
Synopsis:
A gripping story ignored until relatively recently, THE ROUND UP also features a prestigious cast including Jean Reno (The Da Vinci Code) Gad Elmaleh (Comme ton Pére) and Mélanie Laurent (Inglorious Basterds).

Based on meticulous research and told through the story of several Jewish families who find themselves taken unawares by the ferocious turn of events, the film portrays the few weeks in July 1942, when more than 13,000 Parisian Jews, including more than 4,000 children, were rounded up and taken to the now notorious Vel' d'Hiv stadium.

Using real life eyewitness accounts, written and directed by former investigative journalist Bosch, this moving historical drama follows Joseph Weismann, a young Jewish boy who learns to live happily with his family within a small Jewish community in Nazi occupied Paris, where they have taken refuge from the war. That is until the night of 16th July 1942 when their fragile happiness is shattered.

From the Winter Velodrome, to the camp at Beaune la Rolande, from Vichy to the terrace of Hitler's Berghof, THE ROUND UP is a heart-wrenching story of one of the most extreme and devastating mass-arrests of Jewish people during World War Two, charting the real-life destiny of the victims and their persecutors.

Those who orchestrated it.
Those whose trust was tragically misplaced.
Those who fled.
Those who resisted.

All the characters in this film are real. All the events, even the most extreme, took place in that summer of 1942.
Special Features:
Making Of Documentary

Audio Tracks:
French 5.1 Dolby Surround
French 2.0 Stereo

Subtitle Tracks:
English

Directed By:
Roselyne Bosch

Written By:
Roselyne (Rose) Bosch

Starring:
Jean Reno
Melanie Laurent
Gad Elmaleh
Hugo Leverdez
Romain Di Concerto
Mathieu Di Concerto
Raphaelle Agogue

Casting By:
Olivier Carbone
Cornelia von Braun


Music From:
Christian Henson


Director of Photography:
David Ungaro

Editor:
Yann Malcor

Producer:
Jean-Robert Gibard
Alain Goldman
Catherine Morisse

Distributor:
Revolver Entertainment