The Right Stuff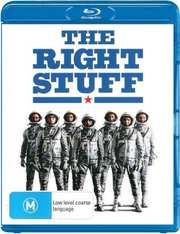 How the future began
Certificate: M
Running Time: 193 mins
Retail Price: AU$19.99
Release Date: 2013
Content Type: Movie
Synopsis:
In the middle of the 20th century, America pondered its future - and looked to the skies. Based on Tom Wolfe's book, The Right Stuff is the tale of how that future began, a thrilling epic of intrepid test pilot Chuck Yeager and the seven pioneering astronauts of the Project Mercury space program.

Nominated for eight Academy Awards, including "Best Picture," Philip Kaufman scripts and directs, pushing the envelope with a filmmaking bravado that matches this soaring story of training and heroism; and of sudden fame for which there is no training.

Ed Harris, Barbara Hershey, Sam Shepard, Dennis Quaid and Fred Ward are among the perfect cast of this winner of four Academy Awards that remains the stuff of must-see entertainment. Let's light this candle, flyboys!
Special Features:
Additional Scenes
Biographical Profile John Glenn: American Hero
The Journey and the Mission: Scene-Specific Commentaries with Director/Screenwriter Philip Kaufman, Cast and Crew Members
3 Featurettes Featuring Cast, Crew and/or the Real-Life Heroes Portrayed in the Movie:
-Realizing the Right Stuff
-T-20 Years and Counting
-The Real Men with the Right Stuff
Theatrical Trailer

Video Tracks:
1.78:1 widescreen 1080p

Audio Tracks:
Dolby TrueHD 5.1 Surround English
Dolby Digital 5.1 Surround Spanish
Dolby Digital 5.1 Surround French
Dolby Digital 5.1 Surround German
Dolby Digital 5.1 Surround Italian
Dolby Digital 1.0 Mono Portuguese

Subtitle Tracks:
French
English
Spanish
German
Italian
Portuguese

Directed By:
Philip Kaufman

Written By:
Tom Wolfe
Philip Kaufman

Starring:
Fred Ward
Dennis Quaid
Ed Harris
Scott Glenn
Sam Shepard

Casting By:
Toni Howard
Lynn Stalmaster

Soundtrack By:
Garth Hudson
Robert Crawford
Bill Conti
Todd Boekelheide

Director of Photography:
Caleb Deschanel

Editor:
Douglas Stewart
Stephen A. Rotter
Tom Rolf
Lisa Fruchtman
Glenn Farr

Production Designer:
Geoffrey Kirkland

Producer:
Irwin Winkler
Robert Chartoff

Executive Producer:
James D. Brubaker

Distributor:
Warner Home Video