Jean-Pierre Melville - The Essential Collection (7 Disc Set)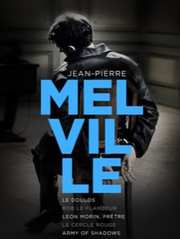 Certificate: TBC
Running Time:
Retail Price:
Release Date: 11/12/2017
Content Type: Movie
Synopsis:
STUDIOCANAL is proud to announce the release of a brand-new boxset of six key films from one of France's most celebrated and truly original filmmakers, Jean-Pierre Melville, in celebration of his centenary this year.

Featuring several brand-new 4k restorations and exclusive new extras, MELVILLE, THE ESSENTIAL COLLECTION will be available to own on Blu-Ray December 11. A number of the titles featured in the collection; Le Doulos, Bob Le Flambeur, Léon Morin, Prêtre, L'Armée
Des Ombres and Le Cercle Rouge, will also be available to own individually on a later date

Often regarded as the godfather of the Nouvelle Vague, the films in MELVILLE – THE ESSENTIAL COLLECTION are all examples of the daring and innovative filmmaking that would see the controversial director influence many artists and filmmakers even now, from
Godard to Tarantino to Johnnie To.
Special Features:
LE DOULOS
NEW Interview with first assistant director Volker Schlondorff - 20 minutes

BOB LE FLAMBEUR
NEW retrospective documentary by the film critic Dominique Maillet - 20 minutes

LEON MORIN PRETRE
NEW Master class with Philippe Labro (friend and apprentice of Melville) + Rémy Grumbach (Melville's nephew) - 59 minutes

LE CERCLE ROUGE
DVD Extras
Interview with Le Cercle Rouge's first assistant director Bernard Stora - 30 minutes

BD Extras
Code Name Melville - 76 minutes

Interview with first assistant

director Bernard Stora - 30 minutes

Interview with novelist José Giovanni - 15 minutes

Présentation by Ginette Vincendeau 21'30

Army of Shadows
L'armée des ombres... le dessous des cartes" (Army of Shadows: the hidden side of the story) documentary - 87 minutes

Un Flic
Documentary featuring interviews with Un Flic's script supervisor Florence Moncorgé-Gabin and first assistant director Jean-François Delon -24 minutes

BONUS DVD:
In the mood for Melville documentary - 52 minutes

24 Heures de la vie d'un clown - Melville short - 22 minutes

Video Tracks:
Various OAR - Colour and Black & White

Audio Tracks:
French Mono

Subtitle Tracks:
English

Directed By:
Jean-Pierre Melville

Starring:
Catherine Deneuve
Alain Delon
Jean-Paul Belmondo