TV drama Material Girl hits DVD in February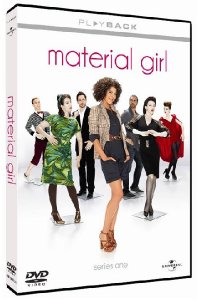 MATERIAL GIRL: SERIES 1
On DVD 22nd February 2010
If you want to get stuck into the drama of London fashion, then
MATERIAL GIRL
is the off-the-rack DVD for you, so get stuck in and try it on for size.  
MATERIAL GIRL: SERIES 1
is
BBC One
's new drama set in the bustling hot-bed of London's Brick Lane.  Following hot on the heels of its prime time broadcast in January and February 2010, you can now own the series as it comes to DVD on
22nd February 2010
, courtesy of Universal Playback. 
MATERIAL GIRL
follows the adventures of a young fashion designer battling an evil ex-boss, a sexy but devilish business partner and snobby fashionistas to get her break in work and love.  An exciting and seriously stylish saga,
MATERIAL GIRL
boasts a stellar cast headed by
Dervla Kirwan
(
Doctor Who, Ballykissangel
),
Michael Landes
(
Love Soup
),
Lenora Crichlow
(
Being Human, Sugar Rush
) and
OT Fagbenle
(
Dr Who
).  Produced by
Chrissy Kinns
(
Secret Diary of a Call Girl
) and directed by
Cilla Ware
(
Primeval, All The Small Things
),
Sarah O'Gorman
(
Plus One
) and
Philip John
(
Mistresses
),
MATERIAL GIRL
was inspired by Fashion Babylon, written by
Imogen Edwards-Jones
.  
At the heart of the show is Ali Radcliffe, played by
Lenora Crichlow
, a fashion designer and our feisty and irresistible young heroine.  She is trying to make a name for herself in the only way she knows how - through sheer hard work and talent.  Bursting with integrity, Ali walks out on her secure job with a high end fashion house to set up her own label that she hopes can cut a swathe through the hierarchical world of fashion.   
But playing fast and loose with the rules like this brings her into direct conflict with powerful players in the industry, most significantly her former boss, Davina Bailey (
Dervla Kirwan
).  Davina is the scheming, tyrannical, designer of the moment, who isn't about to give up her crown as queen of fashion and the designer every hot star wants to be dressed by. 
Ali is impetuous, neurotic and a total mess in her personal life, so will Marco (
Michael Landes
), her mercurial and sometimes unscrupulous business partner, be able to protect her from this nest of vipers?  Or, will he thwart their shared ambition with his murky past or his growing love for Ali?  Enter Chris (
OT Fagbenle
)
, who seems like the perfect boyfriend and, what's more, is a fashion outsider - he might not know the difference between a twirl and a toile but he does know the value of living life to the full.  Will the sexual tension with her and her business partner, Marco, threaten her new relationship? 
Then there are her fiercely loyal, tightly knit group of friends:  Alex, a designer at Davina Bailey's and her gay best friend, with whom she shares her flat and her neuroses; Mimi, wannabe stylist at a chic magazine house and, in her own way, as intuitive and brilliant as Ali; and Lydia, the model with the face of an angel and the voice of a navvy. 
Visit
www.universal-playback.com
for more information. 
Ends
Release Information
Release Date:                                   
22nd February 2010
Credit:                                                 
Universal Playback
Genre:                                                 
Drama/Comedy
Cert:                                                     
12
Running Time:                                 
tbc
Discs:                                                   
2
RRP:                                                      
£19.99
Retail Cat. Number:                       
8272757
Retail Barcode:                                
5050582727579
DVD Extras:                                       
Interviews and backstage featurettes with key cast including: Lenara Crichlow, Dervla Kirwan, Michael Landes, Anna Brewster, Ingrid Oliver, Esther Smith and OT Fagbenle
Copyright:
                                          Film © Carnival Film & Television Limited 2009. All Rights Reserved.  Packaging Design © 2009 Universal Studios. All Rights Reserved.