Supernatural thriller Legion hits DVD and Blu-ray in August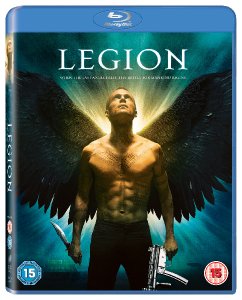 The Action-Packed Supernatural Thriller of the Year

LEGION
The Battle for Humanity Begins on
Blu-ray™ & DVD on August 9
Blu-ray™ Bonus Features Include

movie

IQ+ sync™ and
Picture-in-Picture Commentary!
London, UK. 24/05/10 -
From Sony Pictures Home Entertainment, comes the action-packed supernatural thriller
LEGION
, arriving on Blu-ray™ & DVD on August 9.
A dusty diner in the Mojave Desert becomes ground zero for Earth's final showdown in this startlingly original and terrifying new film starring Paul Bettany (
The Da Vinci Code, Master and Commander: The Far Side of the World
), Lucas Black (
Jarhead
), Tyrese Gibson (
Death Race, Transformers 1 & 2
), Dennis Quaid (
G.I. Joe: Rise of Cobra
,
Vantage Point
) and Kate Walsh (TV's "Grey's Anatomy," "Private Practice"). Scott Stewart, the visual effects wizard behind some of Hollywood's biggest blockbusters, including
Iron Man
,
Pirates of the Caribbean: At World's End
and
Harry Potter and the Goblet of Fire
, makes his stunning directorial debut with this suspenseful, visually breathtaking story about a small band of human survivors struggling to fend off an army of vengeful supernatural beings.
LEGION
touches down on Blu-ray™ and DVD, featuring crystal clear picture, spine-tingling sound and an arsenal of cool bonus features fans won't want to miss.
Go behind the scenes of this new action horror classic with the production featurettes "Creating the Apocalypse: Behind the Physical Effects," a look at the film's breakthrough action sequences and special effects; "Humanity's Last Line of Defence: The Cast and Characters," featuring interviews with the film's large ensemble cast, and "From Pixels to Picture: A Look at the Visual Effects," in which
LEGION
's filmmakers reveal how computer generated effects were seamlessly integrated into the finished film.
Exclusive to the Blu-ray™ edition of
LEGION
are "Bringing Angels to Earth," a uniquely interactive and visual Picture-in-Picture exploring various facets of the film's production, and the BD-Live™ enabled
movie
IQ+sync, which lets viewers access live trivia information about the movie's cast, crew, music and production - all while watching the movie.
Horror and action fans won't want to miss this spectacular, end-of-the-world thriller when it becomes available to own on August 9 for RRP £22.99 (Blu-ray) and RRP £15.99 (DVD).
Synopsis
At a remote desert truck stop, the fate of the world will be decided. Evil's armies are amassing. Armed and united by the Archangel Michael (Paul Bettany), a group of strangers become unwitting soldiers on the frontlines of the Apocalypse. Their mission: protect a waitress and her sacred unborn child from the relentless, bloody siege of the demonic legion. Also starring Dennis Quaid (
G.I. Joe: The Rise of Cobra
,
Vantage Point
), Lucas Black (
Jarhead
) and Tyrese Gibson (
Transformers
).
LEGION
co-stars Adrianne Palicki (TV's "Friday Night Lights"), Charles S. Dutton (
Fame
), Jon Tenney (TV's "The Closer"), Kevin Duran (
Wolverine
) and Willa Holland (TV's "The O.C."). It was written by Peter Schink (
Gotham Café
) and Scott Stewart. It was produced by David Lancaster (
Bobby
) and Michael Litvak (
Middle of Nowhere
) and executive produced by Gary Michael Walters (
The Hole
), Jonathan Rothbart and Scott Stewart. It features cinematography by John Lindley, ASC (
Pleasantville
), editing by Steven Kemper, A.C.E. (
Mission: Impossible 2
) and an original score by John Frizzell (
Alien: Resurrection
).
Blu-ray & DVD Bonus Material
Creating the Apocalypse
Humanity's Last Line of Defense
From Pixels to Picture
Blu-ray Exclusive Bonus Material
Bringing Angels To Earth: Picture-in-Picture

movie

IQ+sync and BD-Live connect you to real-time information on the cast, music, trivia and more while watching the movie
Blueprint of a Scene
Designing Paradise Falls
Visit Sony Pictures Home Entertainment on the Web at
www.SonyPictures.com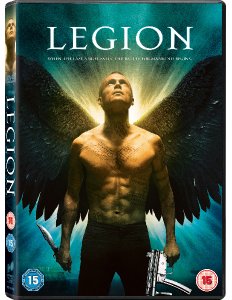 The Blu-ray Disc version of
LEGION
is BD-Live enabled, allowing users to get connected and go beyond the disc via an Internet-connected Blu-ray player. Download content, give feedback through an exclusive survey, and register for rewards.
PRODUCT INFORMATION

TITLE
Legion
Release Date

9 August, 2010
Format

Retail Blu-ray
Rental Blu-ray
Retail DVD
Rental DVD
RRP
Blu-ray: £22.99
DVD: £15.99
Certificate
15
Genre
Horror
Running Time
96 mins