The Avengers – The Complete Series 4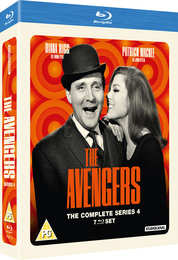 Certificate: PG
Running Time: 1352 mins
Retail Price: TBC
Release Date: 23/02/2015
Content Type: TV Series
Synopsis:
Extraordinary crimes against the people and the state have to be avenged by agents extraordinary. Two such people are madcap agent John Steed (Patrick Macnee), top professional, and his glamorous partner, Emma Peel (Diana Rigg), talented amateur. Otherwise known as The Avengers.

THE AVENGERS: THE COMPLETE SERIES 4 was a defining series for many reasons; the production budget increased with location shoots being favored over the original studio setting, it was the last of the series to be shot in black and white, as well as the first to be shot on film, allowing multiple camera angles.

A cult classic, this seven disc boxset includes the complete and uncut Series 4, on Blu-ray™ for the first time, jam packed with over six hours of special features, THE AVENGERS: THE COMPLETE SERIES 4 is not to be missed when released this February.
Special Features:
Exclusive audio commentaries with: director Roy Ward Baker and scriptwriter/producer Brian Clemens on The Town of No Return, scriptwriter Robert Banks Stewart on The Master Minds, scriptwriter Roger Marshall on Dial A Deadly Number, director Gerry O'Hara on The Hour That Never Was and director Don Leaver on The House That Jack Built.
• The Series of No Return - Exclusive audio interview with Elizabeth Shepherd
• Armchair Theatre – The Hothouse (starring Diana Rigg)
• USA Chessboard opening sequence
• Strange Case of the Missing Corpse promotional trailer
• Alternative end tag from Death At Bargain Prices
• Episode reconstructions for series 1 scripts Kill The King and Dead of Winter
• Colourised test footage from Death At Bargain Prices and A Touch of Brimstone
• Reconstructed 'The Avengers are back' John Stamp trailer
• Alternative UK opening and closing credits
• Alternative UK animated bumpers
• UK animated bumper
• Variant opening title credits for The Gravediggers
• French opening credits
• German opening credits
• ITN Newsreel footage
• Stills galleries

Video Tracks:
1:33:1 Black & White

Audio Tracks:
2.0 Mono CPCM

Subtitle Tracks:
English language. HOH Subtitles

Directed By:
Various

Written By:
Various

Starring:
Patrick Macnee
Diana Rigg

Music From:
Laurie Johnson

Producer:
Brian Clemens
Alan Fennell
Many others

Distributor:
Studio Canal