Ridley Scott's Robin Hood arrives in September on DVD and Blu-ray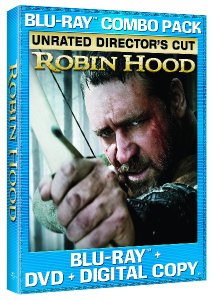 Academy Award® Winners Russell Crowe and Cate Blanchett
Star in the Summer Blockbuster From the Director of

Gladiator
ROBIN HOOD
The Epic Action-Adventure Debuts in a
Blu-ray™ Combo Pack & 2-Disc Special Edition DVD September 13, 2010 Featuring an
Unrated Director's Cut Plus the Original Theatrical Film
Oscar® winner Russell Crowe reunites with
Gladiator
director Ridley Scott to reveal the untold story of a common archer's rise to become a hero in
Robin Hood
, the $309 million
jtrebor[at]ku.oc.reweiver.liam:143/fetch%3EUID%3E.INBOX%3E64577#_ftn1" target="_blank">[1]
worldwide blockbuster coming to Blu-ray™ Hi-Def Combo Pack, 2-Disc Special Edition DVD and single disc DVD on September 21, 2010 from Universal Studios Home Entertainment. All of these versions will feature the theatrical film, as well as a never-before-seen unrated director's cut of the movie. The film and its unrated version will also be available day and date for digital download and video on demand.
The 3-disc
Robin Hood
Blu-ray™ Combo Pack will feature a Blu-ray and DVD copy of the theatrical and director's cut film, as well as a digital copy of the director's cut that can be viewed on an array of electronic and portable devices anytime, anywhere. Additionally, both the Blu-ray™ Combo Pack and the 2-Disc Special Edition will feature deleted scenes and filmmaker commentary, plus an extensive look at the making of
Robin Hood
that includes behind-the-scenes interviews with cast and crew. The Blu-ray™ release also exclusively features an interactive "Director's Notebook," which seamlessly takes fans inside the making of the specific scenes of the film, from production design to special effects.
Sweeping pageantry and heart-pumping action transports viewers to the meticulously recreated medieval battlefields and byways of 13th century England for the inspiring story of a legendary hero.
Robin Hood
'

s
sterling cast also includes Academy Award® winners Cate Blanchett (
The Aviator, Elizabeth: the Golden Age
) and William Hurt (
The Incredible Hulk,
Kiss of the Spider Woman
), as well as Mark Strong (
Sherlock Holmes
), Mark Addy (
The Full Monty­
), Oscar Isaac (
Body of Lies
), Danny Huston (
The Aviator
), Kevin Durand (
Legion
), Scott Grimes ("Band of Brothers"), Matthew Macfadyen (
Frost/Nixon
), Eileen Atkins (
Last Chance Harvey
)
,
Simon McBurney (
Body of Lies
) and Oscar® nominee Max von Sydow (
Shutter Island).
Robin Hood's
expansive scale and exhilarating action sequences hit a bulls-eye with critics around the world, with Pete Hammond of
Boxoffice Magazine
saying, "If you've think you've seen
Robin Hood
, think again," and adding that that the film is "spectacular epic movie making at its best in the tradition of
Gladiator
and
Braveheart
."
Robin Hood
is "An original, new take on a classic story," in the words of Patrick Stoner, WHYY - PBS (Philadelphia) and "A must-see epic adventure!" according to Christina Vandre, KARE - NBC (Minneapolis). Dan Jolin of
Empire
gives itfour stars, calling it
,
"Ridley Scott and Russell Crowe at their most entertaining since
Gladiator
."
BONUS FEATURES EXCLUSIVELY ON BLU-RAY™
:
·
DIRECTOR'S NOTEBOOK—
A seamless multimedia experience focusing on the director's vision gives viewers a peek inside Oscar® nominee Ridley Scott's unique filmmaking process. Incorporating behind-the-scenes footage and interviews with Scott and his trusted inner circle of collaborators, this feature launches at critical moments throughout the film to illuminate the task of mounting a vast production like
Robin Hood.
·
THE ART OF NOTTINGHAM—
A special look at the portfolio of designs generated for the film, including video introductions by key department heads such as production designer Arthur Max and costume designer Janty Yates. Galleries of concept art, costume designs, storyboards and other imagery are featured.
·
BD-LIVETM—
Access the BD-Live™ Center through your Internet-connected player to get even more content, watch the latest trailers and more.
o
MY SCENES—
Bookmark your favorite scenes from the movie.
·
pocket BLU™ app—
Experience Blu-ray in an exciting new way with the pocket
BLU
™ app for iPhone, iPod Touch, iPad, Blackberry, Android, PC and Macintosh. With this app, you can work seamlessly with a network-connected Blu-ray™ player to activate advanced features such as:
o
Advanced Remote Control
:
A sleek, elegant new way to operate your Blu-ray™ player. Users can navigate through menus, playback and BD-Live™ functions with ease as well as activate a timeline to skip to any point in the movie with the slide of a finger.
o
Video Timeline
:
Users can easily bring up the video timeline, allowing them to instantly access any point in the movie.
o
Mobile-To-Go
:
Users can unlock a selection of bonus content with their Blu-ray™ discs to save to their device or to stream from anywhere there's a Wi-Fi network, enabling them to enjoy exclusive content on the go, anytime, anywhere.
o
VIRTUAL Keyboard
:
Enter data into a Blu-ray™ player with your device's easy and intuitive keyboard to facilitate such Blu-ray™ features as chatting with friends and sending messages.
·
uHEAR—
Always catch every word with uHear! This innovative feature instantly skips back a few seconds on your Blu-ray™ disc and turns on the subtitles for the section you couldn't hear!
·
INTERACTIVE TICKER:
Get the latest information about Universal's theatrical and Blu-ray™ releases. Plus, get updates about upcoming BD-Live events, awards and TV shows on NBC
BONUS FEATURES AVAILABLE ON BLU-RAY
™
AND 2-DISC SPECIAL EDITION DVD
:
·
DELETED SCENES WITH INTRODUCTION & COMMENTARY BY EDITOR PIETRO SCALIA
·
RISE AND RISE AGAIN: MAKING RIDLEY SCOTT'S

ROBIN HOOD
BALLAD, LEGEND & MYTH: PRE-PRODUCTION—

See how the filmmakers and actors, including Ridley Scott, Brian Grazer and Russell Crowe, tackled the challenge of breathing new life into the longest surviving character in the English language, Robin Hood.

THE MORE THE MERRIER: PRODUCTION—

A stellar cast led by Russell Crowe and Cate Blanchett descended on England to shoot this massive epic under the direction of Ridley Scott. With an unparalleled passion for detail, Scott oversees all of the production design, costuming, weaponry and action sequences in the film.

NO QUARTER GIVEN: POST PRODUCTION—

Sifting through a million feet of shot film, Ridley Scott and editor Pietro Scalia perfect the screen story and work with the post-production team to add layers of sound design, visual effects and Marc Streitenfeld's beautiful score.
·
DIGITAL COPY OF THE UNRATED DIRECTOR'S CUT VERSION OF THE FILM
SYNOPSIS
Robin Hood
chronicles the life of an expert archer, previously interested only in self-preservation, from his service in King Richard's army against the French. Upon Richard's death, Robin Longstride (Oscar® winner Russell Crowe) travels to Nottingham, a town suffering from the corruption of a despotic sheriff and crippling taxation, where he falls for the spirited widow Lady Marion (Oscar® winner Cate Blanchett), a woman skeptical of the identity and motivations of this crusader from the forest. Hoping to earn Lady Marion's hand and salvage the village, Robin assembles a gang whose lethal mercenary skills are matched only by their appetite for life. Together, they begin preying on the indulgent upper class to correct injustices under the sheriff. With their country weakened from decades of war, embattled by the ineffective rule of the new king and vulnerable to insurgencies from within and threats from afar, Robin and his men heed a call to ever greater adventure. This unlikeliest of heroes and his allies set off to protect their country from slipping into bloody civil war and return glory to England once more.
http://www.robinhoodthemovie.com/
Universal Studios Home Entertainment is a unit of Universal Pictures, a division of Universal Studios (www.universalstudios.com). Universal Studios is a part of NBC Universal, one of the world's leading media and entertainment companies in the development, production, and marketing of entertainment, news, and information to a global audience. Formed in May 2004 through the combining of NBC and Vivendi Universal Entertainment, NBC Universal owns and operates a valuable portfolio of news and entertainment networks, a premier motion picture company, significant television production operations, a leading television stations group, and world-renowned theme parks. NBC Universal is 80%-owned by General Electric, with 20% owned by Vivendi.
CAST AND FILMMAKERS
Directed By
: Ridley Scott
Screenplay By:
Brian Helgeland
Story By:
Brian Helgeland and Ethan Reiff & Cyrus Voris
Produced By
: Brian Grazer, Ridley Scott, Russell Crowe
Executive Producers:
Charles J. D. Schlissel, Michael Costigan, Jim Whitaker, Ryan Kavanaugh
Director of Photography
: John Mathieson BSC
Production Designer:
Arthur Max
Editor:
Pietro Scalia ACE
Music By:
Marc Streitenfeld
Costume Designer:
Janty Yates
Cast:
Russell Crowe, Cate Blanchett, William Hurt, Mark Strong, Mark Addy, Oscar Isaac, Danny Huston, Kevin Durand, Scott Grimes, Matthew MacFadyen, Eileen Atkins, Simon McBurney and Max von Sydow
TECHNICAL INFORMATION
Blu-ray™
Street Date:
September 13, 2010
Selection Number:
61115859
Running Time:
2 Hours 21 Minutes / 2 Hours 36 Minutes
Layers
: BD-50
Aspect Ratio
: Widescreen 2:40:1
Rating:
PG-13 for violence including intense sequences of warfare, and some sexual content / NA
Technical Info:
English DTS-HD Master Audio 5.1/DVS DD 2.0, French and Spanish DTS Surround 5.1, English SDH, French and Spanish Subtitles
TECHNICAL INFORMATION
DVD
Street Date:
September 13, 2010
Copyright:
2010
Selection Number:
61110991
Running Time:
2 Hours 21 Minutes / 2 Hours 36 Minutes
Layers
: Dual Layer
Aspect Ratio
: Anamorphic Widescreen 2.40:1
Rating:
PG-13 for violence including intense sequences of warfare, and some sexual content / NA
Technical Info:
English Dolby Digital 5.1/DVS DD 2.0, French and Spanish Dolby Digital 5.1, English SDH, French and Spanish Subtitles
2 Disc DVD
Street Date:
September 13, 2010
Copyright:
2010
Selection Number:
61112398
Running Time:
2 Hours 21 Minutes / 2 Hours 36 Minutes
Layers
: Dual Layer
Aspect Ratio
: Anamorphic Widescreen 2.40:1
Rating:
PG-13 for violence including intense sequences of warfare, and some sexual content / NA
Technical Info:
English Dolby Digital 5.1/DVS DD 2.0, French and Spanish Dolby Digital 5.1, English SDH, French and Spanish Subtitles