Mega Shark in Malibu turns up on DVD in September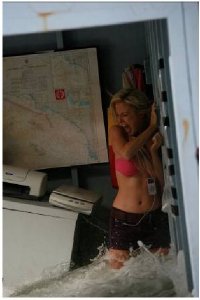 MEGA SHARK IN MALIBU
Sun…Sea…Sand…and Sharks!
DVD Release date: 20th September 2010
Running time: 86 minutes
DVD RRP: £15.99
Cert:
15
Snapping hot on the heels of MEGA PIRANHA comes MEGA SHARK IN MALIBU…
The peaceful Malibu seas are about to turn blood red when an undersea tremor releases six bone-armoured goblin sharks from their subterranean prison.
As a tsunami, spotted off the California coast, fast approaches, it soon becomes crystal clear that no where is safe from the razor-sharp teeth of the deadly creatures.
Trapped in their lifeguard station, lifeguards Doug, Heather and Barb along with knockout new arrival Jenny find themselves up to their necks in water fighting for survival.
Will the predictably good-looking cast live to bronze another day or will they be left as chum by the hungry prehistoric predators?
Please note:
There are no extra features on this disc