Lethal Weapon Collection - 1 - 4 Boxset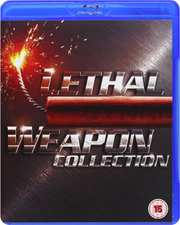 A hi-def explosion
Certificate: 15
Running Time: 470 mins
Retail Price: £49.99
Release Date: 2010
Content Type: Movie
Synopsis:
Mel Gibson and Danny Glover star as Martin Riggs and Roger Murtaugh is this hugely popular series of action packed thrillers that set the tone for buddy movies.

Lethal Weapon

Martin Riggs (Mel Gibson) is a what seems to be unstoppable cop, but no other cop wants to work with him due to his reckless approach. When Riggs is transferred to a different department he is partnered with Roger Murtaugh (Danny Glover) who has just turned 50 and looking forward to his retirement. The two mismatched cops must put aside their differences in order to stop a chain of ruthless drug dealers and who knows, in the process they might just become friends!

Lethal Weapon 2

Riggs and Murtaugh are back in another laugh out loud action thriller as they take on a group of brutal diplomats who are using their immunity to engage in criminal activity. When things get personal between the diplomats and Riggs and Murtaugh a battle begins ending in a violent showdown. Co-starring Joe Pesci in a hilarious performance as Leo Getz.

Lethal Weapon 3

Lethal Weapon 3 sees the reckless pair take on an ex-cop and his gang of gun smugglers in this fast paced thriller. Co-starring Rene Russo as Riggs' new flame and a detective offering a help in hand on the case.

Lethal Weapon 4

Lethal Weapon Four sees Riggs and Murtaugh return in the most lethal instalment yet. Riggs and Murtuagh have certainly been through a lot together but are about to be put to the test as they take on ruthless triad Wah Sing Ku who is trying to break his villainous brother from prison. Co-starring Chris Rock as Detective Lee Butters and of course Joe Pesci as Leo Getz.
Special Features:
Commentary with Richard Donner
Deleted Scenes
Trailers
Honeymoon Suite Lethal Weapon Music Video
Sting and Eric Clapton - 'It's Probably Me' Music Video
Stunts And Action
Pure Lethal: New Angels, New Scenes, and Explosive Outtakes
Psycho Pension: The Genesis of Lethal Weapon
A Family Affair: Bringing Lethal Weapon to Life
Pulling the Trigger: Expanding the World of Lethal Weapon
Maximum Impact: The Legacy of Lethal Weapon

Video Tracks:
1.78:1 widescreen 1080p
2.40:1 widescreen 1080p

Audio Tracks:
DTS-HD MA 5.1 Surround English
Dolby Digital 5.1 Surround Spanish
Dolby Digital 5.1 Surround French
Dolby Digital 5.1 Surround German
Dolby Digital 5.1 Surround Italian
Dolby Digital 5.1 Surround Polish
Dolby Digital 5.1 Surround Russian
Dolby Digital 5.1 Surround Thai

Subtitle Tracks:
English
Spanish
French
German
Italian
Russian
Polish
Thai
Portuguese
Bulgarian
Chinese
Czech
Danish
Dutch
Finnish
Greek
Hebrew
Korean
Norwegian
Swedish
Turkish

Directed By:
Richard Donner

Written By:
Shane Black
Jeffrey Boam
Warren Murphy
Robert Mark Kamen
Miles Millar
Jonathan Lemkin
Channing Gibson
Alfred Gough

Starring:
Mitchell Ryan
Gary Busey
Danny Glover
Mel Gibson
Patsy Kensit
Joss Ackland
Joe Pesci
Traci Wolfe
Stuart Wilson
Rene Russo
Chris Rock
Jet Li

Casting By:
Marion Dougherty
Gail Levin
Owens Hill

Soundtrack By:
Michael Kamen
Eric Clapton
David Sanborn

Director of Photography:
Stephen Goldblatt
Jan De Bont

Editor:
Stuart Baird
Battle Davis
Robert Brown
Frank J. Urioste
Dallas Puett

Costume Designer:
Mary Malin
Ha Nguyen

Production Designer:
J. Michael Riva
James H. Spencer

Visual Effects:
Dick Wood
Jeffrey A. Wischnack
Harold Selig
Bruce Robles
Thomas Mertz
Elmer Hui
Chuck Gaspar
Joe Day
Greg John Callas

Producer:
Jennie Lew Tugend
Joel Silver
Richard Donner
Steve Perry
Michael Klastorin
Alexander B. Collett
J. Mills Goodloe
Ilyse A. Reutlinger
Jennifer Gwartz
Spencer Franklin
Dan Cracchiolo
Peter Frankfurt

Executive Producer:
Steve Perry
Jim Van Wyck

Distributor:
Warner Bros