Jet Li flick Flying Swords of Dragon Gate comes to DVD and Blu-ray this October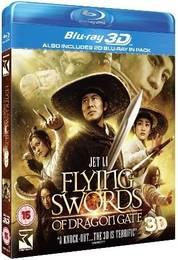 Another one of those very short run cinema releases to bring you news of now, as
Flying Swords of Dragon Gate
arrives in cinemas on 19th October, and both DVD and Blu-ray on 29th October, courtesy of
Revolver Entertainment
.
With special effects by the team that did Avatar, shot entirely in 3D and the fourth highest grossing Chinese language film of all time, this is directed by Tsui Hark.
This co-stars Zhou Xun, Chen Kun, Li Yuchun, Kwai Lun-mei, Louis Fan and Mavis Fan. Alas no idea of the recommended retail price, but expect street prices of around £12 for the DVD and £14 for the Blu-ray.
Synopsis and trailer follow...
The film tells the tale of a pregnant palace maid on the verge of execution. Rescued by the owner of Dragon's Gate Inn, the concubine is lead into a parallel story involving a band of people in search of lost treasure.
Seeking refuge from an oncoming storm at Dragon Gate Inn, the plot climaxes to see the two stories converge to create an action-packed quest for treasure amidst a tale of star-crossed love, all enveloped by a time frame that marks the arrival of a catastrophic storm that threatens to destroy everything.