They're back! Power Rangers Samurai comes to DVD this October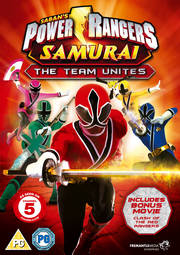 Everybody loves the Power Rangers, right? What's your favourite colour? The pink one? Everyone loves the pink one, right? Enough of this sillyness, rejoice as a new generation turn up in the camp motorcycle outfits.
Yes,
FremantleMedia Enterprises
are kindly bringing us
Power Rangers Samurai: The Team Unites
to DVD this 29th October. Directed by Peter Salmon, this stars Hector David Jr., Brittany Anne Pirtle, Rene Naufahu, Felix Ryan, Kate Elliott and Steven Skyler.
Special features include a bonus movie entitled Clash of the Red Rangers, whilst the recommended retail price for this go-go-athon will be £9.99.
Synopsis and trailer follow...
The epic battle begins as a new Power Rangers Samurai team unites to take on the evil Master Xandred in a race to save the world.
Master Xandred, the evil Nighlok leader, has reawakened and it's up to Red Ranger and Mentor Ji to form a new Samurai team to stop him!
Bound by ancestral duty, Kevin, Mike, Emily and Mia join Jayden on a quest to abolish evil, working together with their Symbol Powers and their devoted animal Zords, to battle the dreaded Nighlok monsters. As Xandred plans to flood the Earth with tears from the Sanzu River, only these brave Samurai Rangers stand between the world and destruction.