Scooby Doo! Mystery Incorporated: Volume 1 is out in August on DVD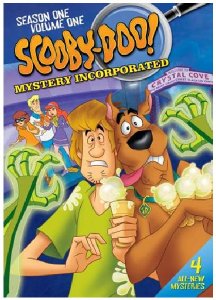 SCOOBY-DOO! MYSTERY INC - VOL.1
THE
ALL-NEW ORIGINAL ANIMATED SERIES
AVAILABLE ON DVD ON 29th AUGUST, 2011
The world's favorite mystery-solving hound,
Scooby-Doo!,
is finally back with a brand new series of hair-raising adventures in
Scooby-Doo! Mystery Inc - Vol.1
, available on DVD from
29th August, 2011
courtesy of Warner Home Video
The melancholy village of Crystal Cove has long since boasted a history of frights such as ghost sightings, mischievous poltergeists, demonic possessions and other creepy coincidences. When Scooby and the Mystery Inc team arrive to prove these happenings are of a far less ghastly nature, the village rejoices - until the gang uncovers a creepier complication that threatens to change everything.
Packed with
Scooby-Doo's
trademark wit and energy, featuring the classic characters of Fred, Daphne, Velma and Shaggy, all of whom join
Scooby-Doo
while he cowers in the background,
Scooby-Doo! Mystery Inc - Vol.1
is the perfect addition to any fan's collection and also the perfect opportunity for new fans to get on board with one of most legendary and nationally loved animation franchises ever.
What's more,
Scooby-Doo! Mystery Inc - Vol.2
is released on DVD later in the year, allowing fans to spend a fabulous summer in the company of the world's most famous - and most cowardly - investigator!
Release Information:
Release Date: 29th August, 2011
Format: DVD
Credit: Warner Home Video
Genre: Children's Animation
Cert: U
RRP: TBC
Retail Cat Number: TBC
Barcode: TBC
About Warner Bros. Animation
Warner Bros. Animation has been producing award-winning original animation since 1930, when it released its first cartoon, "Sinkin' in the Bathtub." Since then, Warner Bros. Animation's characters have set the standard for innovative, quality animation.
Producing for network and cable television, online, home entertainment and feature films both domestically and internationally, Warner Bros. Animation is highly respected for its creative and technical excellence, as well as maintaining the studio's rich cartoon heritage. Warner Bros. Animation also oversees the creative use of, and production of animated programming based on classic animated characters from the Hanna-Barbera and DC Comics libraries. Warner Bros. Animation is one of the most honored animation studios in history, garnering a grand total of six Academy Awards®, 35 Emmy® Awards, the George Foster Peabody Award, an Environmental Media Award, a Parents' Choice Award, a Humanitas Award, two Prism Awards and 20 Annie Awards (honoring excellence in animation).
About Warner Home Video
With operations in 90 international territories, Warner Home Video, a Warner Bros. Entertainment Company, a division of the
Warner Bros. Home Entertainment Group
, commands the largest distribution infrastructure in the global video marketplace. Warner Home Video's film library is the largest of any studio, offering top quality new and vintage titles from the repertoires of Warner Bros. Pictures, Turner Entertainment, Castle Rock Entertainment, HBO Home Video and New Line Home Entertainment.
About Warner Bros. Home Entertainment Group
Warner Bros. Home Entertainment Group brings together Warner Bros. Entertainment's home video, digital distribution, interactive entertainment/videogames, direct-to-DVD production, technical operations and anti-piracy businesses in order to maximize current and next-generation distribution scenarios. WBHEG is responsible for the global distribution of content through DVD, electronic sell-through and VOD, and delivery of theatrical content to wireless and online channels, and is also a significant worldwide publisher for both internal and third party videogame titles.