The Wizard of Oz: 70th Anniversary Collector's Edition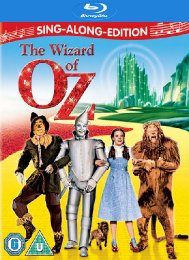 Metro-Goldwyn-Mayer's Technicolor Triumph
Certificate: U
Running Time: 102
Retail Price: £22.99
Release Date: 02/11/2009
Content Type: Movie
Synopsis:
Based on a 1900 children's novel, The Wonderful Wizard of Oz by L Frank Baum, THE WIZARD OF OZ received five Academy Award nominations on release. It won the Oscar for Best Original Score and Best Original Song and also gained a special award for Outstanding Juvenile Performance by a 4'11", sixteen-year-old girl who quickly earned her reputation as "the world's greatest entertainer". Put Judy Garland and "Over the Rainbow" together and you have, as her daughter Lorna Luft says, "The most perfect song in one of the most perfect movies ever made."

And with this release's brand new sing-along feature, you can now join in and be right in the action: dreaming of beyond the rainbow, wishing for a brain, being the King of the Forest and following the Yellow Brick Road. Moreover, with a Blu-ray release that includes nearly four hours of all-new, never-before-available bonus features, there has never been a better time to enjoy THE WIZARD OF OZ in all its glory.

This must-have anniversary edition also brings the visual splendour of THE WIZARD OF OZ to the Hi-Definition world of Blu-ray Disc. The film has been entirely re-mastered and the result is a release that is sure to make THE WIZARD OF OZ 70th ANNIVERSAY EDITION a fantastic addition to the Blu-ray format. The Blu-ray contains both standard definition and Blu-ray formats in addition to hours of bonus features on a third disc.
Special Features:
• Commentary by Historian John Fricke including archival interviews of the film's cast and crew
• The Wonderful Wizard of Oz: The Making of a Movie Classic
• The Art of Imagination: A Tribute to Oz
• Because of the Wonderful Things it Does: The Legacy of Oz
• Memories of Oz
• The Wonderful Wizard of Oz StoryBook
• Prettier than ever: The Restoration of Oz
• We Haven't Really Met Properly
• Jukebox
• Leo Is on the Air Radio Promo
• Good News of 1939 Radio Show
• 12/25/1950 Lux Radio Theater Broadcast
• Sing-Along Audio Feature
• Another Romance of Celluloid: Electrical Power
• Cavalcade of the Academy Awards Excerpt
• Texas Contest Winners
• Off To See the Wizard Excerpts
• Stills Galleries
• 6 Theatrical Trailers
• Trailers
• Harold Arlen's Home Movies
• Outtakes and Deleted Scenes
• It's a Twister! It's a Twister! The Tornado Tests
• Victor Fleming: Master Craftsman
• L. Frank Baum: The Man Behind the Curtain
• Hollywood Celebrates its Biggest Little Stars!
• The Dreamer of Oz 1990 TV Special
• The Wonderful Wizard of Oz [1910 short]
• His Majesty, The Scarecrow of Oz [1914 feature]
• The Magic Cloak of Oz [1914 short] RT 53:10
• The Patchwork Girl of Oz [1914]
• The Wizard of Oz [1925 feature]
• The Wizard of Oz [1933 animated short]
• DVD Sing Along version

Video Tracks:
1080p Full Frame 1.33:1

Audio Tracks:
Dolby TrueHD 5.1 English
Dolby Digital 1.0 Mono English
Dolby Digital 1.0 Mono French
Dolby Digital 1.0 Mono German
Dolby Digital 1.0 Mono Spanish
Dolby Digital 1.0 Mono Italian
Dolby Digital 1.0 Mono Portuguese

Subtitle Tracks:
English HoH
French
German HoH
Spanish
Italian
Portuguese
Dutch
Mandarin
Danish
Finnish
Czech
Norwegian
Polish
Swedish

Directed By:
Victor Fleming

Written By:
Noel Langley
Florence Ryerson
Edgar Allan Woolf
Noel Langley
L. Frank Baum

Starring:
Judy Garland
Frank Morgan
Ray Bolger
Bert Lahr
Jack Haley
Billie Burke
Margaret Hamilton
Charley Grapewin
Pat Walshe
Clara Blandick

Director of Photography:
Harold Rosson

Editor:
Blanche Sewell

Producer:
Mervyn LeRoy

Distributor:
Warner Home Video