Speed Racer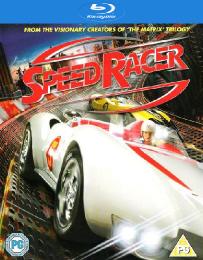 From The Visionary Creators Of 'The Matrix' Trilogy
Certificate: PG
Running Time: 135
Retail Price: £26.99
Release Date: 10/11/2008
Content Type: Movie
Synopsis:
From the visionary Wachowski Brothers, creators of the 'The Matrix' trilogy, comes 'Speed Racer'. With groundbreaking visual effects and breathtaking action sequences, it puts you in the driver`s seat like never before. Race car driver Speed (Emile Hirsch) is on a quest for glory behind the wheel of his thunderous Mach 5. Aided by the dark and mysterious Racer X (Matthew Fox), he takes on vicious competition in his fight to prove himself and rescue the sport he loves from destruction. With an all-star cast, including John Goodman, Susan Sarandon, Christina Ricci and Paulie Litt, 'Speed Racer' is an adrenaline-fuelled visual assault on the senses.
Special Features:
• Speed Racer: Ramping Up!
• Spritle in the Big Leagues - Tour the Movie Set with Paulie Litt
• Speed Racer: Supercharged! - Meet the Drivers of the WRL; Explore the Film's Incredible Cars and Unbelievable Racetracks
• Speed Racer: Car-Fu Cinema - A Behind-the-Scenes Look at the Revolutionary Moviemaking Process

Video Tracks:
1080p High Definition 2.35:1

Audio Tracks:
Dolby Digital 5.1 English
Dolby Digital 5.1 Castilian Spanish
Dolby Digital 5.1 French
Dolby Digital 5.1 German
Dolby Digital 5.1 Italian
Dolby Digital 5.1 Swedish

Subtitle Tracks:
English
Castilian Spanish
Complex Chinese
Danish
Dutch
Finnish
French
German
Italian
Korean
Norwegian
Portugese
Swedish

Directed By:
Andy Wachowski
Larry Wachowski

Written By:
Andy Wachowski
Larry Wachowski
Tatsuo Yoshida

Starring:
Emile Hirsch
Christina Ricci
John Goodman
Susan Sarandon
Matthew Fox
Scott Porter
Benno Fürmann
Richard Roundtree
Kick Gurry
Christian Oliver
Paulie Litt
Nayo Wallace
Roger Allam
Ralph Herforth
John Benfield
Hiroyuki Sanada
Nan Yu
Togo Igawa

Casting By:
Lora Kennedy
Lucinda Syson


Soundtrack By:
Michael Giacchino

Director of Photography:
David Tattersall

Editor:
Roger Barton
Zach Staenberg

Costume Designer:
Kym Barrett

Production Designer:
Owen Paterson

Producer:
Joel Silver
Grant Hill
Andy Wachowski
Larry Wachowski

Executive Producer:
David Lane Seltzer
Michael Lambert
Bruce Berman

Distributor:
Warner Bros.