Crude TV comedy Blue Mountain State: Season 1 out on DVD this August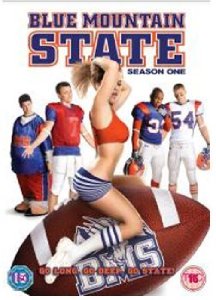 BLUE MOUNTAIN STATE
The complete first season launches on DVD on August 22
BLUE MOUNTAIN STATE
is the rudest, crudest comedy ever to hit the field. The complete first season arrives on DVD following a successful airing on MTV and coinciding with Season two (currently on air). This ram-packed two-disc set is available on August 22 (RRP £19.99).
Three football-mad freshmen arrive to a big-time, mid-western college. Will they be able to juggle football, girls, lessons and non-stop partying? Touch down with our three jocks…
Alex
is a talented quarterback who is content to just sit on the bench and party with his best friend
Sammy
aspires to be nothing more than the school's mascot
Craig
is meant to be the good guy and has his life already mapped out for him by a controlling girlfriend
Welcome to the hilarious
BLUE MOUNTAIN STATE
!
DVD technical details:
Number of discs: 2
RRP: £19.99
Certificate: 15 TBC
Sound: Dolby Digital 5.1 Surround
Running time: 286mins approx
DVD Extras:
· Outtakes/Deleted Scenes
· Locker Room Rewind
· Making the squad: The Cheerleaders of BMS