Complete series of The Strange World of Gurney Slade comes to DVD this August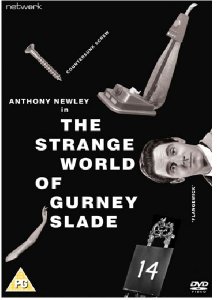 THE STRANGE WORLD OF GURNEY SLADE
:
THE COMPLETE SERIES (PG)
Both firmly of and spectacularly ahead of its time, THE STRANGE WORLD OF GURNEY SLADE (PG) is to television comedy what

The Prisoner

has become to television drama - brilliantly inventive and startlingly surreal. A hybrid mix of innovation one associates with modern comedy like

The Mighty Boosh

and

Psychoville

, THE STRANGE WORLD OF GURNEY SLADE - THE COMPLETE SERIES (PG) is available for the first time in any format on 15th August 2011, RRP £14.99.
Anthony Newley stars as an actor who walks off the set of a banal sit-com in disgust and ennui, and into a fantasy world of his own imagination. In this strange odyssey through his own personal alternative reality, he indulges in random conversations with both animals and inanimate objects - it's a world in which characters can step out of advertising posters and where he can hear the most intimate thoughts of passers by!
An unpredictable, absurdist fantasy, Gurney Slade created an indelible impression upon anyone who saw it. Created by Newley and written by the highly talented Sid Green and Dick Hills (who were soon to become key writers for
Morecambe and Wise
), this series has been newly transferred from the original 35mm film elements specifically for this release.
***ENDS***
NOTES TO EDITOR
THE STRANGE WORLD OF GURNEY SLADE- THE COMPLETE SERIES (PG) is a Network DVD release
Release Date: 15th August 2011
RRP: £14.99
Disc: 1
Total Running Time: 150 mins
(approx.)
Screen Ratio: 1.33:1 Black and white
Cat. No.: 7953388