Fashion icon documentary Iana Vreeland: The Eye Has To Travel swans onto DVD this October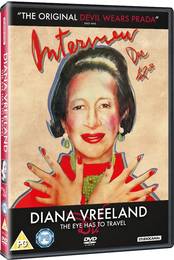 We enter the fashion world today, with a documentary by Lisa Immordino Vreeland entitled
Iana Vreeland: The Eye Has To Travel
and released on DVD by
Studio Canal
on 29th October.
Lisa, Diana's granddaughter in-law, marks her directorial debut here, and has herself had a successful career in fashion having been the Director of Public Relations for Polo Ralph Lauren in Italy and launched several fashion companies.
The production features interviews with stars including Ali McGraw, David Bailey and Lauren Hutton. The runtime is about 83 minutes, it comes with a 5.1 Dolby Digital soundtrack, and extras that include deleted scenes and a trailer, whilst the recommended retail price will be £19.99.
Synopsis follows...
Diana Vreeland (1903 – 1989) was the 20th Century's greatest arbiter of style, an exotic and vibrant character who, during her fifty-years as the "Empress of Fashion" dazzled the world with her unique vision of style high and low. She launched Twiggy, advised Jackie O, and coined some of fashion's most eloquent proverbs such as "the bikini is the biggest thing since the atom bomb."
After twenty-five years at Harper's Bazaar, Diana resigned and took over Vogue as editor-in-chief. It was the swinging sixties, where – as Diana would say – "you could have a bump on your nose, it made no difference so long as you had a marvellous body and carriage." Uniqueness was being celebrated and Vreeland's transformation of Vogue was at the vanguard of this cultural revolution.
The pages of Vogue exploded with fashion, art, music, and film, forming its "golden years." It was suddenly a young, new and exciting magazine, where models had personalities and fashion spoke to all women.
Diana became a living legend, with her striking silhouette, her jet-black hair, and her peculiar voice, somewhere between high society and street slang. Her famous red living room, "a garden in hell", became the headquarters for New York arts and society. Diana would look upon these years as her most glorious ones; she had finally found an era fit for her vivid and wild imagination.
In 1972, at age seventy, Diana began working at the Met's Costume Institute where she set new standards for exhibiting fashion worldwide, awakening an institution that had been forever sleepy. Like a film director, she created sets in which elaborate fantasies came to life.
Diana Vreeland was the oracle of fashion for much of the 20th century, inviting us to join her on a voyage of perpetual reinvention and take part in the adventure of life. Through her trained and diligent eye, she opened the door of our minds and gave us the freedom to imagine. Her images and accomplishments are as fresh and relevant now as they were then, and her spirit is just a vibrant and relevant today.