WWE The Best Of 1996 - Prelude To Attitude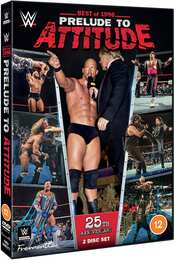 Certificate: 12
Running Time: 356 Mins
Retail Price: £12.99
Release Date: 29/11/2021
Content Type: TV Series
Synopsis:
THE YEAR WAS 1996.

People were using beepers and landline phones to communicate. Bill Clinton was president, and WWE was on the cusp of one of the hottest periods in sports-entertainment history.

Now, you can witness the most significant moments in one of WWE's most pivotal years in this special two-disc collection.

Experience the incredible WWE Championship reign of SHAWN MICHAELS, THE ROCK'S FIRST MATCH IN WWE, THE MOMENT WHERE AUSTIN 3:16 WAS BORN, and so many great matchups featuring BRET "HIT MAN" HART, TRIPLE H, UNDERTAKER, MANKIND and more!

WELCOME TO PRELUDE TO ATTITUDE! 25th ANNIVERSARY.

15 Matches and many more exciting moments from this amazing year.
Special Features:
Matches:

Royal Rumble
Intercontinental Championship
Razor Ramon vs. Goldust

In Your House
Number 1 Contender's Match
Shawn Michaels vs. Owen Hart

Raw
Bret 'Hitman' Hart vs. Hunter Hearst Helmsley

In Your House: Good Friends, Better Enemies
No Holds Barred Match for WWE Championship
Shawn Michaels vs. Diesel

In Your House: Beware of the Dog
'Wildman' Marc Mero vs. Hunter Hearst Helmsley

King of the Ring
Undertaker vs. Mankind

King of the Ring
Final
Jake 'The Snake' Roberts vs. Stone Cold Steve Austin

In Your House: International Incident
Shawn Michaels, Sycho Sid and Ahmed Johnson vs. Vader, Owen Hart and British Bulldog

Raw
Raw Invitational Battle Royal

Summerslam
WWE Championship
Shawn Michaels vs. Vader

In Your House: Mind Games
WWE Championship
Shawn Michaels vs. Mankind

Raw
Intercontinental Championship Tournament Final
'Wildman' Marc Mero vs. Faarooq

Survivor Series
Traditional Elimination Match
Rocky Maivia, 'Wildman' Marc Mero, Jake 'The Snake' Roberts and The Stalker vs. Jerry 'The King' Lawler, Hunter Hearst Helmsley, Goldust and Crush

Survivor Series
Bret 'Hitman' Hart vs. Stone Cold Steve Austin

In Your House: It's Time
WWE Championship
Sycho Sid vs. Bret 'Hitman' Hart

Also includes notable moments:

Vader Destroys Gorilla Monsoon
Undertaker Meets Mankind
Sunny Gets 'Slopped'
Stone Cold Steve Austin Takes Out Brian Pillman

Related Websites:
https://wwedvd.co.uk/wrestling/wwe-1996-prelude-to-attitude-dvd/

Distributor:
Fremantle Home Entertainment