The Attitude Era WrestleMania Collection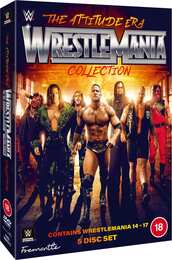 Certificate: 15
Running Time:
Retail Price: £19.99
Release Date: 27/09/2021
Content Type: TV Series
Synopsis:
Welcome to WrestleMania! Here, Superstars become heroes. Heroes become legends, and legends become immortal.

In this set highlighting every WrestleMania during WWE's Attitude Era, you can now relive WrestleMania 14-17 in this one-of-a-kind collection.

From the rise of "Stone Cold" Steve Austin to the sibling rivalry between Undertaker and Kane to legendary matches and moments featuring The Rock, Triple H, Mankind, Chyna, Trish Stratus, and more, this collection will take you back to one of the most in-your-face periods in WWE history.
Special Features:
Wrestlemania 14
Main Event:
WWE Championship
Shawn Michaels vs. Stone Cold Steve Austin

Wrestlemania 15
Main Event:
WWE Championship
The Rock vs. Stone Cold Steve Austin
(Includes Special Features including Alternate Audio Commentaries by The Rock and Stone Cold Steve Austin)

Wrestlemania 16
Main Event:
Fatal 4-Way Elimination Match for WWE Championship
Triple H vs. The Rock vs. Big Show vs. Mick Foley

Wrestlemania 17
Main Event:
WWE Championship
The Rock vs. Stone Cold Steve Austin
(2 Disk includes Special Features)

Related Websites:
https://wwedvd.co.uk/wrestling/the-attitude-era-wrestlemania-collection-dvd/

Distributor:
Fremantle Home Entertainment