Classic BBC drama Tenko comes to DVD this June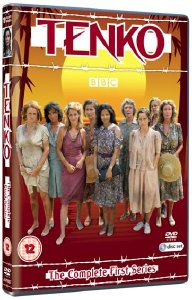 THE COMPLETE FIRST SERIES
'One of the most fondly remembered and acclaimed BBC dramas of the early 1980s'
TV.com
BASED ON real life experiences
Tenko
meaning 'roll call' in Japanese is the powerful story of a disparate group of women whose lives are changed forever when they are taken by the Japanese as prisoners of war after the fall of Singapore in 1941.
The hugely popular and groundbreaking series made a great impact when it first aired in the 1980s and was the first drama to feature actresses in ensemble in tough conditions. Creating a stir for its bold storytelling itwas brave pioneering television that highlighted controversial social issues.
Starring a brilliant cast of established British actors including:
Stephanie Beacham
(Dynasty, Bad Girls)
,
Stephanie
Cole
(Waiting for God, Doc Martin)
and
Louise
Jameson
(Eastenders, Doctor Who)
, the hard-hitting drama follows the expats lives as they are separated from their husbands, herded into makeshift camps and have to learn to cope with appalling living conditions, malnutrition, disease, violence and death.
Originally broadcast on BBC One between 1981 and 1985, the programme attracted high ratings with audiences in excess of 18 million.
Tenko: The Complete First Series
features more than eight hours of classic BBC drama, in a four-disc set containing all ten episodes. It will be released on DVD on 6 June 2011 courtesy of Acorn Media.
Tenko
is compelling one of a kind TV drama that is well worth revisiting.
TENKO
VOTED MOST REQUESTED TV SERIES TO BE RE-SCREENED ON

YESTERDAY TV CHANNEL

AND WILL AIR LATER ON THIS YEAR
Special features: The Tenko Story, cast filmographies and subtitles
Title: Tenko
Release Date: 6 June 2011
Cat No: AV9887
RRP: £29.99
Running Time: 516 mins approx on 4 discs
Certificate: TBC