BBC adaptation of Michel Faber's The Crimson Petal & The White comes to Blu-ray and DVD in June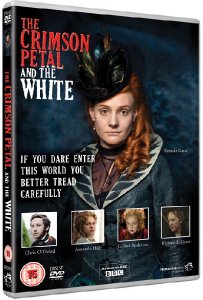 THE CRIMSON PETAL & THE WHITE
BBC2's stunning adaptation of best-selling Victorian thriller
Release date: 20th June 2011
"If you dare enter this world, you had better tread carefully." Such is the advice of Sugar, the heroine of the BBC2 sexually charged thriller,
The Crimson Petal and The White
, released on DVD by Fremantle Media Enterprises in June.
Based on the best-selling book by Michel Faber,
The Crimson Petal and The White
is dark-edged period drama at its best, brought to life by a stellar cast featuring Romola Garai (Emma, Atonement) as Sugar, Chris O'Dowd (IT Crowd), Richard E Grant, Mark Gatiss (League of Gentlemen) and Gillian Anderson (X Files. Produced by BAFTA, Golden Globe and Emmy Award winner David Thompson (An Education, Men Who Stare At Goats, Billy Elliott), it is directed by Marc Munders (The Devil's Whore, Conviction) and adapted by Lucinda Coxon. Spectacular sets and fantastic costumes provide an incredible backdrop which immerses the viewer in a highly realistic portrayal of Victorian London.
Broadcast on BBC2 in April, it received much praise from critics and viewers alike. Critics have heralded it as "fabulous melodrama" and "dense, dark and engrossing". The launch episode attracted 2.1 million viewers, making it the most watched programme on BBC2 of the day.
SYNOPSIS:
A compelling Victorian tale of revenge,
The Crimson Petal & The White
tells the story of Sugar, an alluring and intelligent young prostitute. Sugar longs for a better life and when she secures the patronage of successful businessman William Rackham, she begins to hatch a scheme that will free her from her life in the slums. However, as their worlds become more entwined, Sugar's plans set in motion a series of events that will change both their lives forever. It is an engrossing drama with a twist that viewers will want to watch again and again.
DVD & BLU-RAY EXTRA FEATURES
The DVD release comprises all 4 episodes as broadcast plus exclusively:
· In depth interviews with:
o David M Thompson, Producer (Billy Elliot, The Other Boleyn Girl)
o Marc Munden, Director (The Devil's Whore, Vanity Fair)
o Lol Crawley - Director of Photography (Four Lions)
o Grant Montgomery - Designer (Shameless, Casanova, Sharpe)
o Jackie Fowler - Make-up (Sex, Drugs & RocknRoll, Harry Brown, Ironclad)
o Annie Symons - Costumer (Worried About The Boy, Criminal Justice, Crusoe)
· Deleted Scenes
TECHNICAL INFORMATION
DVD
Catalogue number: FHED 2847
Certificate: 18tbc
Episode run time: 232 mins approx
Two disc set
Aspect Ratio: 16.:9
RRP: £24.99
Barcode: 5030697019936
Each episode is also available for download via iTunes one week after initial TV broadcast, priced £1.89 per episode or £6.99 for the series.