Son of Perdition by Wendy Alec
...the book that leaves the Da Vinci Code in the shade... film rights sold!
Three brothers. Three Arch Angels. The Illuminati. A New World Order.
The world, as you now see it, is about to change.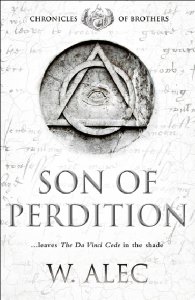 SON OF PERDITION is the first title in the Chronicle of Brothers epic series, blending urban legend and biblical history. A fast paced thriller with conspiracy theories, international conflicts, natural disasters and terrorism.
It is 2021. Three brothers, each in two worlds. On earth, the heirs to the influential De Vere banking and oil dynasty, rise in the World of Men. Jason, a media tycoon spearheads an international media conglomerate; Adrian, the newly appointed charismatic president of the European Union is a key player in international diplomacy; and Nick, the youngest brother, a talented archaeologist playboy. In another world, Michael and Gabriel in the Royal Household of Yehovah, battling with their brother Lucifer who, having fallen during the great war in heaven, is eaten by jealousy and revenge. Little do the de Vere's know how their existence parallels that of their angelic counterparts.
The Third World War has just ended and the Ishtar Accord - a seven year denuclearisation treaty between Russia, the Pan Arab Union and Israel is due to be signed. Adrian de Vere is being hailed as the next JFK, having played a prominent part in the end of the war. In its aftermath, the brothers' high profiles capture the public's confidence and no one suspects the de Vere brothers unwittingly harbour a dark family secret which threatens the world as they see it. A meeting with a trusted family friend leads Nick to find himself drawn in to a conspiracy that reveals a terrifying family history and that the brothers are inextricably intertwined with Lucifer's plans for revenge.
ABOUT THE AUTHOR
W. Alec was born in London, left the UK at the age of eight and grew up in Durban, South Africa and has spent a career largely in advertising, writing screenplays and TV production, before co-launching the UK and Europe's first religious television channel on Sky in the UK in 1995. Twelve years later, the channel is over half the size of CNN, and now broadcasts eight separate 24 hour television channels to the UK, Europe, Asia, the Middle East and Africa and the USA. W. Alec lives in the North West of Ireland and the Midwest of the USA.