A New Omnibus of Crime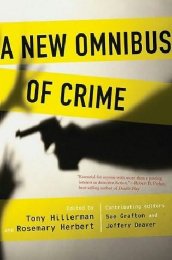 Authors:
Rosemary Herbert
Tony Hillerman

Retail Price (Hardback): Retail Price (Softback): Retail Price (Ebook): ISBN:
978019537071
First Published:
2009
Description:
This fantastic new collection picks up where Dorothy L. Sayers' landmark 1929 anthology The Omnibus of Crime left off, bringing together monumental, important, and entertaining works of short crime fiction published over eight decades from the era of the Great Depression to the first years of the twenty-first century.

In lively introductory essays, celebrated crime writer Tony Hillerman and critic Rosemary Herbert place each story in the context of the author's work and the genre's literary history. Their extraordinary collection is international in scope and emphasizes the most exciting styles and voices, rather than taking a typical decade-by-decade approach. As a result A New Omnibus of Crime is packed with page-turning, engaging, and spine-tingling selections. Stories in this collection include Patricia Highsmith's "Woodrow Wilson's Necktie," Sue Grafton's "A Poison That Leaves No Trace," and many more, including never-before-published works from Jefferey Deaver, Catherine Aird, and Alexander McCall Smith.

A New Omnibus of Crime is a marvelous achievement that brings together some of the greatest crime and mystery short fiction ever collected. Showcasing the work of such revered authors as Dashiell Hammett, P.D James, Ross Macdonald, Sara Paretsky, Ruth Rendell, and Elmore Leonard, it is a definitive volume that will be treasured by all fans of the genre.

Publishers:
OUP