Never Mind The Botox - Alex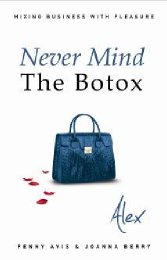 Mixing Business with Pleasure...
Authors:
Penny Avis
Joanna Berry

Retail Price (Hardback): Retail Price (Softback):
£6.99
Retail Price (Ebook): ISBN: First Published:
Description:
Alex Fisher is a high-flying lawyer close to making partner in a City law firm and busy planning her perfect wedding to her musician boyfriend Elliott. When a new deal comes up at work, the sale of a high profile cosmetic surgery business, Alex jumps at the chance to prove she has what it takes to become partner.

Working on site at the cosmetic surgery clinic, Alex finds herself spending all her time with Dan, a hot junior lawyer who she can't stop herself flirting with. Uncovering a secret celebrity client list, Alex and Dan discover a case of botched surgery that they must keep under wraps at all costs. So when the press start leaking details of celebrity clients, Alex must get to the bottom of who is selling secrets or risk losing not only the deal but also her job.

Back at home her fiancé Elliot is being less than supportive about their wedding, leaving Alex to fend off her mother's crazy suggestions for a fairytale themed wedding complete with unicorns! When she discovers that Elliot has invited his band mates on their honeymoon, and a drunken night out with Dan goes a step too far, Alex's perfect world is turned upside down.