Welcome to the NHK: Complete Collection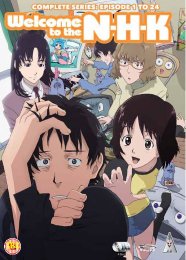 Have your obsessions taken over your reality?
Certificate: 15
Running Time: 545 mins
Retail Price: £29.99
Release Date: 2012
Content Type: TV Series
Synopsis:
Sato's life is going down the drain. He's dropped out of college, only goes outside once a week, and sleeps sixteen hours a day. Surviving on a steady diet of internet porn sites, he finds himself falling further into a pit of despair. Then he has a sudden epiphany. Sato decides that the sinister broadcast company known as "The NHK" is trying to transform their viewers into jobless, societal recluses, and they bombard them with images of cutesy anime girls.

Unable to resist the charms of such addictive programming, innocent victims like Sato are soon too busy watching TV, reading erotic comics, and playing pornographic computer games to pursue a normal life.

In Sato's darkest hour, he has a chance encounter with a beautiful girl named Misaki, who claims that she can cure him of his perverse ways. Is this mysterious visitor an angel of mercy, or a devilish agent of the NHK? Will he get a job and counter the evil organization, or will he submit to his weakness and download porn all day? Swimming in a sea of corruption, Sato prepares for the battle of his life. Welcome to the NHK!

Contains episodes 1-24.
Special Features:
Textless Credits

Video Tracks:
1.78:1 anamorphic widescreen

Audio Tracks:
Dolby Digital 2.0 Stereo English
Dolby Digital 2.0 Stereo Japanese

Subtitle Tracks:
English

Directed By:
Yusuke Yamamoto

Written By:
Satoru Nishizono
Tatsuhiko Takimoto

Starring:
Daisuke Sakaguchi
Yui Makino
Yutaka Koizumi
Risa Hayamizu
Sanae Kobayashi
Chris Patton
Greg Ayres
Stephanie Wittels
Luci Christian
Monica Rial

Music From:
Pearl Brothers

Director of Photography:
Naoki Kitamura

Editor:
Akinori Mishima

Distributor:
MVM